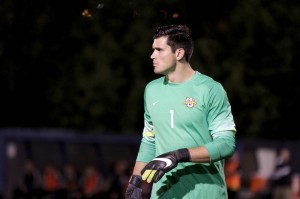 Major League Soccer will kick off its annual Superdraft in Philadelphia Thursday, and two former Marquette players are hoping to hear their name called by one of the 20 clubs' GM. Defenseman Axel Sjoberg and goalkeeper Charlie Lyon are both considered candidates for selection when festivities begin from the Philadelphia Convention Center at 11:30 a.m.
Sjoberg served as the leader of the Marquette backline, playing every minute since 2012. The 6-foot-7 Swedish defender won three Big East Defender of the Week awards this season and was named the team's most valuable player. His play at Marquette was defined defensively by his long stride and offensively as the go-to player for headers off set pieces. Sjoberg scored 11 goals in 63 games with the Golden Eagles.
Sjoberg participated in the MLS Combine this week and has turned some heads with his play. SBI founder Ives Galarcep listed Sjoberg as one of the most impressive players during the first day of the combine, stating he's "climbing up the draft boards."
Most experts have Sjoberg going somewhere in the first round. MLS.com draft analysts Jonathan Yardley and Nate Sulat both have Sjoberg slotted high in their mock drafts, predicting he'll be selected by the Columbus Crew with the 14th pick, while College Soccer News has him going a pick earlier to Vancouver in its draft. Top Drawer Soccer also has Sjoberg going to Columbus, except it has him going 35th overall. He's ranked 15th on SBI's most recent "Big Board."
Marquette coach Louis Bennett has high expectations, and said he expects Sjoberg to be taken in the first round.
"When he showed up (to the combine) everyone expected him to be lumbering," said Bennett. "(His talent) is no longer a well-kept secret.… He definitely caught the eye of four or five MLS teams."
Bennett says that a lot of Sjoberg's success starts with his dedication to his game. Sjoberg had gone down to Florida early before the combine to get acclimated to the weather, and in his spare time he researched every player he'd be playing against.
Lyon did his best to fill his resume this season, recording seven shutouts to set the program record for shutout minutes and total shutouts in a career. Lyon started 61 games at Marquette, posting a 0.83 goals against average and a .811 save percentage.
The 2013 Big East Co-Goalkeeper of the Year, Lyon already spent time in the Chicago Fire development program. Because of his experience in their program, the Fire could have signed Lyon before the draft as a part of the MLS homegrown player rule.
Lyon is not on most mock draft boards, but his selection is highly dependent on how many teams are interested in selecting a goalkeeper. With the limited jobs Lyon may need to work his way up the US soccer pyramid.
"I believe if Charlie really wants to be a professional soccer player then he'll be prepared to bounce around," Bennett said. "There are teams that are interested, he just has to find the right fit."
If either player is drafted, it would be the second year in a row and the third time in four years a Marquette player was taken in the MLS Draft. Midfielder Bryan Ciesuilka was taken in the fourth round by the Chicago Fire last season. Midfielder Calum Mallace, who started 12 games for the Montreal Impact this season, was drafted by the squad in the second round of the 2012 draft.
The draft is being streamed live on the MLS website. The process consists of four rounds, with the final two occurring via conference call next Tuesday.
Story continues below advertisement