Marquette Law School waives fee to encourage applications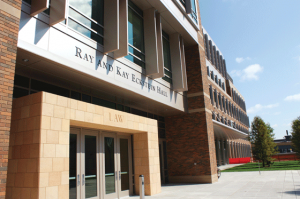 In an effort to respond to nationally decreasing applications, the Marquette University Law School is working on ways to encourage students to apply to it, including waiving its $50 application fee.
In the past several years, law school application rates have fallen dramatically. According to the Law School Admissions Council, in 2010 the end-of-year total of student applicants to nationally approved law schools was 87,900. By 2013, that number was cut by almost a third to 59,400.
The Marquette Law School has been experiencing a similar fall in applicants. In 2010, 2,301 applications were received and decreased 36.7 precent to 1,457 in 2013.
There are a few reasons for the decrease, partly the economy, but the demand for lawyers has also decreased due to options like LegalZoom and the outsourcing of pre-trial chores, the New York Times reported.
The Law School has been working with the Office of Marketing and Communication to increase its online presence with targeted ads and on Twitter, as well as attending law school fairs to encourage students to apply. Sean Reilly, assistant dean of admissions for the Law School, also said the vendor of their applications made modifications several years ago, which makes turning the fee on and off simple.
"It's hard to pinpoint what may cause someone to transmit their application. It's all part of a package," Reilly said. "It would not be fair to say we see dramatic spikes when we turn off the application fee."
Applicants can also get fee waivers in other methods, including having an alumnus endorse them, or attending a campus visit. The admissions office tracks correlations between prospective students who visit the campus and those who apply and subsequently enroll as students. Although it is difficult to determine if the visit causes the application or if the serious interest in application causes the visit, Reilly said there is a strong trend.
The law school uses their multiple Twitter handles to increase awareness about waived fees, announce events and circulate news of students and professors accomplishments.
In an email, Reilly said OMC created a new video this year featuring students, faculty and other aspects of the law school and its community for the web.
The law school began using an online vendor to host chats with prospective students. In February the law school is planning to partner with other law schools across the Midwest to participate in a virtual fair online.
"Our experience is the number of people who participate in those (virtual fairs) is not very high," Reilly said. "Those haven't been as fruitful as we hoped."
Although participation in its chat events has been low, Reilly said the admissions office plans to continue as many events as possible, both online and off. In fall 2014, law school representatives attended more than 80 in-person events.
Leave a Comment