Smoke Shack: A Prime Place to Eat in the Third Ward
At first glance, Smoke Shack appears to be a decrepit, dusty building lacking character and flair. However, this barbeque joint located on 332 North Milwaukee St. in Milwaukee's Historic Third Ward provides customers with a unique setting to eat barbecue and southern-style foods.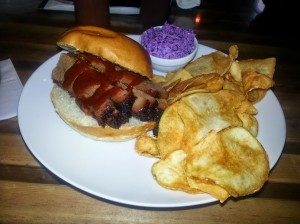 The restaurant appears extremely small from the outside, but the inside tells a different story. The atmosphere is reminiscent of the backwoods of a southern state with wood practically everywhere and a small, dimly lit dining area which seats only about 50 people.  This relaxed vibe makes it a nice place to grab a bite to eat with friends, family members who are in town or even yourself. Laid-back music that included , renowned Blues artists like BB King and Michael Burks, gave the restaurant an added dimension compared to other restaurants that generally blast top radio hits throughout their venues. Even if there was not any music playing in Smoke Shack, the restaurant still would have been an intriguing spectacle to appreciate and observe.
Smoke Shack offers brisket, ribs, pulled pork, chicken and a wide array of other barbecue options. Side dishes include cornbread, greens, sweet potato fries and other delicious southern foods. I chose to go with the "Brisket Sammich" with kettle chips and coleslaw. The brisket, slow-cooked for at least 15 minutes, was extremely tender and easy to indulge in, which is key when consuming any kind of meat. Likewise, their customer service came off as extremely friendly, something that should not be taken for granted when eating out.
Another aspect of Smoke Shack that I loved was the assortment of sauces. A lot of barbecue places that I have been to only have a few complementary sauces to choose from, but every sauce at Smoke Shake was available without having to pay extra or ask a waitress for a sauce that was not on the table. Since everyone has distinct taste buds, I appreciated that the sauces ranged from sweet and savory Kansas to spicy habanero. Although my "Brisket Sammich" could have been eaten without any sauces, the flavors available to try on sandwiches and other entrees gives this restaurant an advantage over other barbecue joints.
While some of the appetizers and salads are reasonably priced, I would not consider the entrees to be as affordable for students who are on somewhat of a tight budget, but I recommend it to students looking for a new place to eat with friends on the weekend or when family is in town. Despite the higher prices, the portion sizes that are given at this barbecue joint make the few extra dollars seem worth it. I was very satisfied with the amount of food that was served and did not feel overstuffed.
Some foods may not be available later in the day, which is kind of disappointing for people looking to explore the menu before ordering. Smoke Shack also serves brunch from 9 a.m. to 3 p.m. on Saturday and Sunday, but it does not serve ribs until 5 p.m. on these days.
Now that I have gotten to the meat of the matter and taken a closer look at Smoke Shack, be sure to take a visit to experience the refreshing southern atmosphere, numerous sauces, and top-quality briskets, ribs and other tantalizing dishes.
Overall Review: 4/5
To see a list of other reviews and other interactive content, visit my website www.mkefoodfinds.com
Leave a Comment