Every year Marquette students take on the challenge and adventure of studying abroad. Some are well-traveled, having been to dozens of different countries and cultures, while others, like me, have barely ever been out of the Midwest (except that trip to Disney World in third grade, but I can barely count that).
Next semester, I am leaving my safe McCabe dorm, English-taught classes and familiar Milwaukee tundra to explore Madrid, Spain. I have been through orientations and information sessions galore regarding my trip abroad, but I still am pretty unsure of what exactly to expect. With less than a month to departure, I am both terrified and insanely excited.
In order to get a better grasp on what to look forward to when I leave the United States, I decided to get some first hand information and advice via email from some Marquette students studying in different countries this semester. Check out what they have to say, see how they are doing and maybe you too will find yourself in a distant land on Marquette's behalf in the future.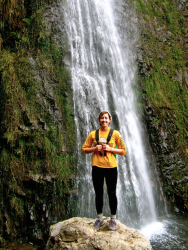 "I chose this program because I felt it offered the most immersive Spanish-language experience, because it allowed for a lot of independence on the student's part and because I had never had any experience in South America before."
–Katie Turek, Santiago, Chile, Marquette Semester in Chile, junior in the College of Health Sciences, studying speech pathology & audiology and Spanish language, literature and culture.
"I have really gotten to know myself better. I have become more independent and rely on my intuition more than I rely on others. I found myself responsible for what happens to me and what I end up doing, and it was empowering. I really fell in love with myself and my own company. I became my best friend because no matter how many new people I met, at the end of the day, I knew I was coming back to hang out with myself. I looked in the mirror and found that I was a stronger person than I could have ever imagined if I didn't study abroad."
–Rachel Krenik, Barcelona, Spain, IQS at Universitat Ramon Llull, junior in the College of Business Administration, studying human resources and international business
"Without a doubt, putting myself out there (is the most valuable skill I have learned since coming here). I knew that coming to a new country, full of new people, and leaving everything and everyone I knew behind would be difficult. But going out on a limb, stepping out of my comfort zone and taking advantages of the opportunities I find has made all the difference."
–Marco Del Arca, Milwaukee, Wis., from San Pedro Sula, Honduras, sophomore in the OPUS College of Engineering, studying civil engineering
"I miss my friends and family (at home). Oh, and cheap food."
–Cody Bauer, Brisbane Australia, Australian Catholic University, junior in the College of Arts and Sciences, studying criminology and psychology
"I wish people in the U.S. would stay off their phones during mealtime; in France the mealtime is a time to relax and connect with people."
–Carly Sommers, Lyon, France, Université Catholique de Lyon, junior in the College of Business, studying marketing and international business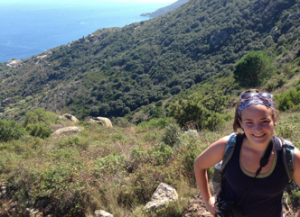 "What will I miss most? The friends I have made here. My closest friends have been my roommates, as I have seven of them. We come from all over the United States so a time when we are all together again is unknown. I'm also going to miss the history of Rome and Europe in general. I love being able to walk to class and see ancient monuments that I learned all about in high school. We have nothing like that in the States."
–Claire Delman, Rome, Italy, John Cabot University, junior is the Diederich College of Communication, studying journalism and pre-law.
"Barcelona's school system is very relaxed. They are not very timely and it is a struggle for me because I am a very big planner and organizer. I like to know what I'm doing and when as soon as it is possible. They like to take their time on whatever it is they are doing, whether it is talking with the class for an extra ten minutes over time, starting the class late or not finalizing schedules until a few weeks in. Many classes also don't have a syllabus with due dates of papers, projects and tests."
–Rachel Krenik, Barcelona, Spain
"My classes are great. The most challenging part would be understanding some of my professors. When they start talking really fast with their accents, it's tough for me to understand them sometimes. The least challenging would be actually going to class. Since I only had class two days a week, it wasn't too difficult to get up and get to my classes."
–Cody Bauer, Brisbane, Australia
If you could give advice to someone thinking about studying abroad, what would you tell him or her?
"There's a lot of recommendations, like knowing the language and about the culture there, but in the end, do it. Don't let those things hold you back. Do it. Keep an open mind and be open to new things and experiences. Take the decision, and run with it. Don't look back just keep running and at the end you'll know it was all worth it. So do it. You won't regret it."
–Marco Del Arca, Milwaukee, Wis.
"I would tell them to do it. Opportunities to study and live in other countries don't present themselves too often, so I would recommend taking advantage of them now. If money is an issue, I would encourage them to look for external scholarships, save their own money and do everything they can to make it happen if it's really a goal. Traveling is an expense, but there are countries where the cost of living is lower than in the US. There is so much to learn about the world, about yourself and where you come from by studying abroad that the experience is absolutely worth any challenges."
–Katie Turek, Santiago, Chile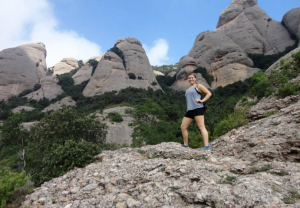 "I would tell them not to be afraid of going out and doing what you want to do, just because someone else doesn't want to. If something interests you, just do it because otherwise you'll regret not doing it. Don't be afraid of trying new things. Sometimes it can give you anxiety or you just want something that is familiar to you. That's the easy way out and there aren't any cool stories to tell when you only do things or eat foods that aren't new to you. I would also say it is important not to judge the new culture. Sure it is interesting to compare the differences, but too much of it often that leads to saying that that custom is weird or strange, which is a negative way of looking at their culture. Try to embrace it and look for reasons and logic why they would do that a certain way. It's easier said than done. And finally, I would say that it is important to reflect on your experiences. Take the time to relax and let the moment sink in. You will find out more about yourself, what you like, don't like, what you want to do more of, to avoid, personalities you like, etc. And do that in a way to get to know yourself better because there is no better time to do so. You are put in such a vulnerable position that will get you to break down and want to give up at times, but this is when you have to figure out what will make you a stronger person to get through whatever it is. It gives you the opportunity to find out what you are made up deeply inside if you let it."
–Rachel Krenik, Barcelona, Spain
"Do it. It is the most life-changing experience!"
–Carly Sommers, Lyon, France
"I'd tell him or her to absolutely, 100 percent do it. It was the experience of a lifetime and I have grown so much as a person. I also got to spend 5 months in one of the most amazing places on Earth and make some incredible new friends from all over Australia and the world."
–Cody Bauer, Brisbane, Australia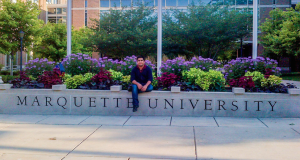 "I would advise them to absolutely do it.  No matter where you go or for how long (semester, summer, or full-year) it will change you and make you grow. It will teach independence and also expose you to an unknown culture. If you are interested in studying abroad in Italy, I highly recommend it. I was looking forward to just traveling every weekend to different countries, but I soon realized how many places in Italy I wanted to see. It's the one thing I think I'll regret about my time here. I didn't explore my home country enough. After talking to different study abroad students, it seems like they spent a lot of time in their country whereas I traveled to different countries. Don't get me wrong, I loved my trips, but wish I could've spent more time finding the off-beaten path places in Italy, as my favorite trip was to Giglio Island, which was a spontaneous weekend trip with my roommates back in September. It was a cute little island that had hiking and a beautiful beach. But anyways, back to advice: if you're considering studying abroad, just do it because it is the only time in your life that you can go to another country for three-ish months and be able to get college credit while also traveling and experiencing things no American college campus can teach you."
-Claire Delman, Rome, Italy