MELBOURNE – One could stand on the deck of the Froling family's home on the slopes of Mount Stuart just outside of Townsville, Australia, and see almost every important sight of the eldest son, Harry's, childhood.
Look into the distance, and you'll find the faint outline of the turquoise water that Harry swam in on so many sweltering days. Avert your gaze slightly downward, and a vast cluster of houses comes into view. Squint into the sunlight, and you might be able to make out the Frolings' old home with the orange roof, although the beat-up old basketball hoop has been thrown away.
What you won't see are all the places that basketball has taken Harry since then: down the East Coast of Australia to Canberra, all across America on college visits, to Southern Methodist University in Dallas and then finally to Marquette's campus in January.
"It was never a distance factor," Harry said about his journey. "I've got my sights set on the NBA, and the NBA happens to be in America. I don't think it's going to find it's way to Australia. … (The distance) hasn't been difficult for me because I've got my sights set on bigger things."
Story continues below advertisement
"HE WAS REALLY STUBBORN" 
Sam, Harry's brother, still laughs as he tells the leaf story.
"When he was little, there was a couple of wasps buzzing around in the backyard and Harry went to touch one. Mom was like, 'Harry don't touch those; they'll sting you.'"
"So he grabbed a leaf, and he poked one with a leaf and it stung him. Mom was like, 'What did I tell you? Didn't I tell you not to touch it?' So then Harry said, 'I didn't touch it. I touched it with a leaf.'"
Shane and Jenny, Harry's parents, both knew that Harry's strong will could be channeled into something useful. It wasn't hard for them to think of an activity, as both parents are basketball coaches and former players.
Shane played for several teams in the Australian National Basketball League during a competitive career spanning over a decade. Jenny's playing days were cut short by a knee injury that required reconstructive surgery, but she was a referee in both the women's NBL and the men's for 10 years afterward.
It comes as no surprise, then, that the parents introduced Harry to the game early. Shane put up an eight-foot hoop and handed Harry a regulation basketball at just three years old.
"He couldn't throw a full-size basketball up at it, and he was down there for three hours until it got dark," Shane said. "Even in the dark, he was trying to get the ball in the hoop and would not stop until he got it."
Eventually, Harry's game on the basketball court started to take shape. He developed sharp passing skills and a much better shot than his father ever had, two attributes that paired nicely with his increasingly tall frame. Nobody knew it at the time, but he was becoming a type of player that didn't exist in his parents' generation.
"When we played, if you were a post player, that's all you did, whereas now all these kids are much more skilled with shooting and passing and dribbling," Jenny said. "The game's just changed."
Physical gifts alone can't account for all of Harry's basketball development, though. Shane sees something else in his son; something to which longtime basketball people are uniquely attuned. Some call it instinct, some may call it athletic IQ, others say it's a feel for the game.
Whatever the name, Shane says "time seems to slow down for (Harry) on the basketball court," a phenomenon he attributes to being around top-level talent from a young age.
"

When I was playing and coaching in Australia's top league, my kids are growing in that. They're having Australia's best coaches come to town, and they're running around on the court.

— Shane Froling
"When I was playing and coaching in Australia's top league, my kids are growing in that. They're having Australia's best coaches come to town, and they're running around on the court. They're shooting half court shots with Olympic players and going to the beach with guys playing in European leagues. … They've been privileged."
The marriage of intellect and raw skill meant that Harry was regularly beating kids two years older than him throughout childhood. It eventually became clear that in order to improve, Harry needed to compete against better players. That meant moving over a thousand miles away from home at age 16.
"HE WANTED TO BE WITH THE BEST"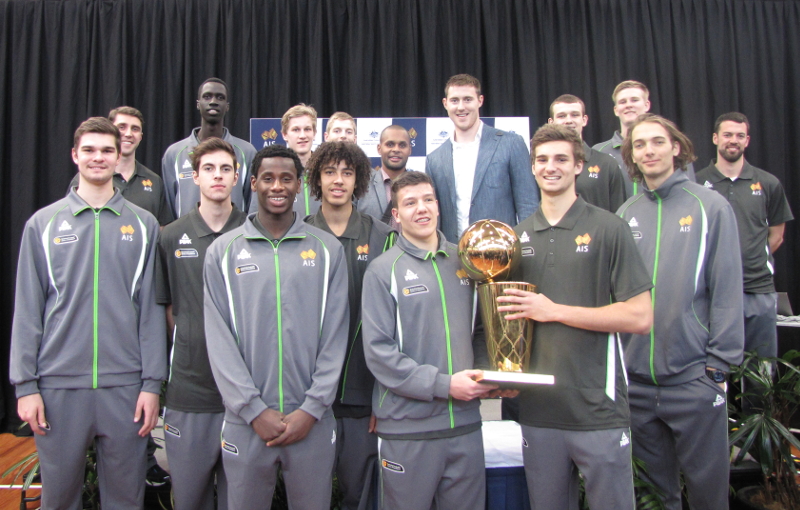 Plaques hang on the white brick walls of a tunnel leading to the courts at Basketball Australia's Centre of Excellence in Canberra. Pictures, graduates' names and lists of honors fill all these plaques, which go on for about 20 feet back toward the locker rooms. Somewhere among them are the names of all the Australian basketball players that an American would know: Andrew Bogut, Matthew Dellavedova, Dante Exum and Patty Mills.
The 1985 team photographs hang a good distance away from those luminaries, right near the mouth of the tunnel. Shane Froling stands with his teammates in the men's photo, while Jenny does the same in the women's picture.
There was no way for either of them to know how many other Frolings would join them on that wall. Six of them — Shane, Jenny and all four kids — attended the Centre, which makes the Frolings the only family to send every member of two generations through the program.
Players who attend the CoE get an opportunity that top-level teenagers in America don't: the chance to play adults. From late March to early August, the CoE assembles a team almost entirely comprised of players under 20 years old and pits them against semi-professional teams in the SEABL, one of several leagues that serve as the NBL's second tier.
"They learn to beat them up under the basket; they learn how to take a hit to the chin," Shane said of the SEABL experience. "They learn how to go up and get contacted on layups, and all of a sudden, they cannot play like they are bullying other kids. They're the ones being bullied and they have to learn how to play a physical game."
After completing his time at the CoE, Harry came home for six months and competed against more adults as a member of his now-defunct hometown team, the Townsville Crocodiles. It was the same team his dad played for and coached.
"I think it was a big honor for him to represent the Crocs and come home," said Shawn Dennis, the Crocs' coach at the time.
Any romance quickly wore off, as Harry's flaws as a player were exposed against older competition. He wasn't fast enough. Tougher players would outwork him for rebounds, even if they were shorter. It didn't help that Harry had what Dennis called "baby fat," or excess, useless weight which made him sluggish on the court.
"He needed to re-condition his body to be an athlete," Dennis said. "Harry would say this himself: he's not the greatest athlete. He's okay, but he needed to work on his body to change that and get every ounce of athleticism he can."
Slowly, Harry started to move the needle. He became tougher in the low post and a little lighter on his feet. An end-of-the-bench role turned into a middle-of-the-bench role, which was as good as it got for an unpaid teenager. It meant playing time in Australia's top league at only 17 years old.
Harry Froling was starting to turn into a formidable player, and coaches on the other side of the Pacific Ocean were starting to notice.
"HE WAS DISHEARTENED"
Harry played on the U17 Australian Junior National Team that claimed the silver medal at the 2014 world championships. Almost immediately afterward, it started: new letters in the mail every day, fresh emails in the inbox, messages left on the answering machine. All of them were from top-tier American colleges, and all of them were inquiring about Harry.
Over the next year, Harry narrowed it down to four schools: Illinois, Colorado, SMU and Arizona. Both parents were sure their son would choose Arizona, as both said the Wildcats did an "outstanding" job in their recruiting presentation.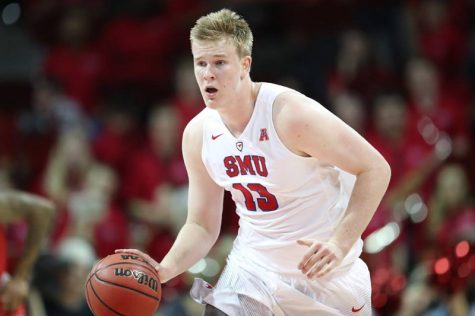 Instead, Harry shocked his parents by committing to SMU, the same school where his two sisters played college basketball. Hall of Fame coach Larry Brown sold Harry on the university. Harry still remembers the line that swayed him for good.
"I want to be an NBA player, and (Brown) said, 'Harry, if you come here, I'll get you to the NBA in two years.'"
Only one thing during the recruitment process gave the Frolings cause for concern. Former Arizona coach Lute Olson, who is a good friend of Brown's, told Shane that Brown was considering leaving SMU soon. Both parents pressed Brown hard about whether the rumor was true.
"We asked the question and Larry guaranteed us — we shook hands — guaranteed Harry that 'I'll be here for three years and you'll be here for three years,'" Jenny said.
"He looked us in the eye and said, 'I guarantee you, I'm not going anywhere,'" Shane said.
"

(Larry Brown) looked us in the eye and said, 'I guarantee you, I'm not going anywhere.'

— Shane Froling
Larry Brown left SMU July 8, citing an inability to agree on the structure of a new contract. Harry arrived on campus earlier in the week. Brown's three-year promise barely lasted three days.
Harry decided to give playing with the Mustangs a shot. Right away, there were problems. The strength and conditioning coaches put Harry, who weighed 270 pounds with 20 percent body fat, on the same lifting regimen as star forward Semi Ojeleye, who weighed 30 pounds less and had two percent body fat. This stopped Harry from improving his athleticism and underscored a larger difference between program and player.
"It was a different style of play to Harry's game, and it wasn't a good fit for him," Sam said. "They were all athletic and jetting up and down the floor. Harry's more of an in to offense, create-his-own-shot kind of guy as opposed to getting up and dunking on everyone."
"It was a lot of little things, and it wasn't the right fit for me," Harry said. "On and off the court, it just didn't feel right," Harry said.
After 10 games at SMU, Harry announced his intention to transfer just before Winter break in December.
"HE SEEMS REALLY HAPPY"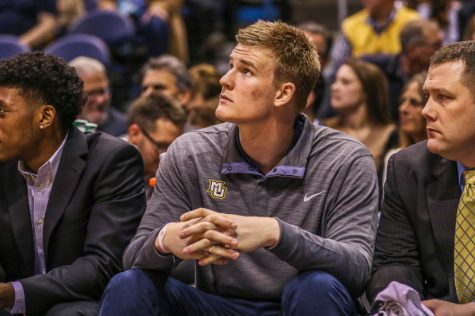 Most freshmen, basketball recruits included, take years to find the best fit for college. Harry now had one month to do so in a country thousands of miles away from home.
The Frolings decided to look at just the two front runners: Oregon State and Dayton. The Oregon State visit happened in late December. Dayton rescinded its scholarship offer shortly afterward, deciding to pursue other players instead. That prompted Harry to take a second look at Marquette, one of the many schools that reached out at the very beginning.
Marquette gave Harry a similar pitch to the one he heard from Arizona as a prospective freshman: customized weight program, loss of body fat and heaps of individual attention. It's the exact thing that Harry admitted "scared (him) a little bit" the first time he heard it. Almost a year removed from his SMU commitment, had Harry's mentality really changed that much?
Shane wasn't sure. He thought Marquette was the better option, and Oregon State's offer provided the same out that SMU did with Arizona a year earlier. During Harry's initial recruitment, Shane mostly kept his opinions to himself. Harry gave him a reason to change that policy.
"I just said to him, 'Look, I want your honest opinion. I don't care what you say; I want you to tell me what you think, and don't hold it back," Harry said of his post-trip interaction with his father.
Shane didn't hold back.
"I told him that if you want the easy route, you should go to Oregon State," Shane said. "You'll be a starter there, they need you and you can coast."
About Marquette, Shane told his son, "Harry, you're not going to like it here because they are going to break your body down."
"You think that's a bad thing?" Harry said.
"No, I think that's brilliant," Shane said.
It didn't take too long before Harry concurred with his father. He committed to Marquette less than 24 hours after his visit to Milwaukee.
NCAA rules preclude midseason transfers from playing in any games until after first semester of the following season, so Harry used that time to heal a nagging stress reaction in his right foot. Although he is on crutches now, Harry predicts he'll be a full participant in practice by June.
The other significant thing that's happened since the commitment is exactly the thing his father predicted, a near-total body transformation. As of late March, Harry had lost nine percent body fat and over 20 pounds.
"I saw a photo of him the other day, and I don't think I've ever seen him look as skinny or muscle-y (sic) as he does now," Sam said. "He's really trimmed down, and he looks heaps better."
Even 8,900 miles away from home, Milwaukee offers the comfort of familiar faces. Bucks player Thon Maker, who knew Harry from a Basketball Without Borders camp, invited his old friend to get food. Close childhood friend and fellow Townsville native Jacob Rose announced on April 29 that he will join Harry at Marquette on an academic scholarship. Harry says he plans to try and walk on to the basketball team.
The chemistry was just as seamless with the new teammates as well. Jenny always got the impression that her son and fellow Australian recruit Tom Wilson, who transferred as well, were isolated from the rest of the locker room at SMU. The complete opposite is true at Marquette, Jenny said.
"He gets on well with the team, which I noticed straight away with his social media and his Snapchats," Jenny said. "I think it's a more comfortable fit."
"HE'S NOW MATURED"
 The Froling family's new home has a small garage, a kitchen that could fit three or four people, a large sundeck overlooking Townsville, a modest family room and an upstairs big enough for the couple living there.
Harry's sisters, Alicia and Keely, moved out years ago. Alicia is heading into her senior year at SMU, and Keely plays for a professional team in Canberra. Sam, a 6-foot-9 power forward who can run the floor with ease, will probably follow his family's path to a major American program. It's the first time in over 20 years that the Froling household has had no children living there.
Feeling a bit sentimental? Jenny and Shane Froling certainly aren't.
"My friends always ask, 'How are you going without the kids?' and I always go 'Yay!'" Jenny laughed.
"They're always going to have a room in our homes, but we're fairly strict parents, so I'm sure they don't all want to come home," Shane added. "They'll come home for visits, but living at home would be pretty tough for them."
Out of the four Froling kids, Harry was always the most gung-ho about leaving home. Those closest to Harry began to sense an even deeper quality than mere independence, a trait that has only begun to manifest in full during the last few months.
"Harry's ready to be his own man, and I think he's probably matured over his experiences at SMU," former Townsville Crocs coach Dennis said. "That's going to be the biggest thing he can take with him … newfound maturity in his decision-making."
Dad agrees.
"He's starting to think smart, he's starting to think ahead and he's becoming a really good kid too. He comes home and he gives his brother the shoes he's got left over, and he's contacting his brothers and sisters on social media, so he's maturing."
Harry agrees most of all.
"I'm ready for this experience, and I'm taking it full stride."