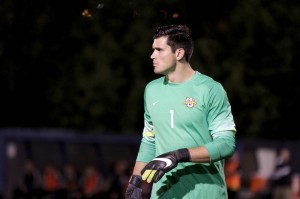 With its season officially over without an NCAA tournament bid, the Marquette men's soccer team is left wondering what might have been.
"It wasn't the season in the end we thought it would be," redshirt senior goalkeeper Charlie Lyon said. "We were able to accomplish so much but it's a tough note to end on."
The Golden Eagles had an incredibly successful non-conference season, which earned them a top-10 spot in the NCSAA polls at one point. However, they hit a rough patch in conference play, including a six-match winless streak. The expectations and success early on makes this year's outcome even tougher to swallow for the team.
"In a lot of aspects statistically we were better than we were the year before," Marquette coach Louis Bennett said. "I think one, two more wins and we would have made it."
In the most recent RPI, the Golden Eagles are 52nd, meaning one or two more wins might have moved them into the 48-team tournament.
"The style of play didn't change during the season, we didn't have major changes in personnel," Lyon said. "It just highlights the nature of the sport. … On any given day a team can be competitive."
"I felt we still had a really good team that could do really great things," redshirt junior defender Axel Sjoberg said. "We proved that in the non-conference play. The process of losing, it was unfamiliar."
The question the team and its supporters are left to ponder is what necessarily went wrong.
"Over the past couple of days we've done a lot of reflection," Bennett said. "It wasn't necessarily one specific thing, but a combination of things."
Bennett said untimely injuries were a major hurtle to overcome, and were a serious detriment to the team's depth. The team was without both Alex McBride and Brady Wahl, who suffered a last-minute injury, in the Georgetown tournament match. The team was also without Nick Parianos during most of non-conference play after suffering a season-ending ACL tear.
Despite ending the season on a somber note, there were some very memorable moments this season. Lyon set program records for consecutive shutout minutes and career shutouts. The Golden Eagles also won their two major rivalry games against Wisconsin-Milwaukee and Wisconsin-Madison.
The moment that stands out the most for Lyon was returning the Milwaukee Cup to Marquette. In that match, he made his first penalty shot save on UWM's Laurie Bell. It was something he felt he was long overdue to accomplish.
For Sjoberg and Lyon, it is the end of the road as Marquette soccer players.
"(Soccer) has been the majority of my time," Lyon said. "To now have more free time and have different responsibilities, it's a little bit of a shock. It doesn't change the fact that (Marquette soccer) is always on my mind."
Despite having one more year of NCAA eligibility, Sjoberg is considering other soccer options for next season.
"I had a great four years, with Big East championships, both regular season and tournament," Sjoberg said. "This season doesn't take away from my overall experience. It hasn't only been soccer that's been great about being at Marquette. It's been the school, the environment."
Next semester, the soccer team will begin preparations for the 2015 season. Although Marquette is losing some vocal leaders, many younger players stepped into major roles this season.
"This is by no means the end of an era," Bennett said. "It's in fact the beginning of era. Over the past four years we've been able to establish a level of play and level of competency that we want to build on. This year was a minor setback."
Story continues below advertisement