Journey: Ben Teich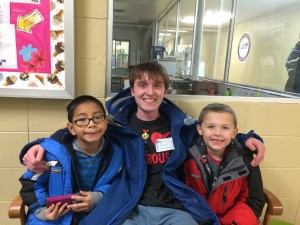 When officer elections for Circle K were coming up last year, then-freshman in the College of Engineering Ben Teich jokingly told friends he was going to run for president. However, after his friends encouraged him to actually run for the position, Teich took a leap and decided to run.
Circle K is a collegiate service organization sponsored by Kiwanis International, an organization dedicated to service that sponsors clubs in 80 different nations to focus on the needs of specific communities. Marquette's division of Circle K elects its own officers, who lead meetings to plan service events to benefit the Milwaukee area. As a whole, Circle K clubs combine to make up the largest university service leadership organization in the world, completing half a million hours of service each year.
As a student at Marquette High, Teich never ran for a leadership position in Key Club and regretted it. "In high school I kept making the excuse that I tell people not to make, which was that I didn't have time," Teich said. "In college I finally came to the realization that I actually did have the time."
Teich is currently a sophomore studying mechanical engineering. Along with serving as Circle K's president, Teich is a resident assistant to one of the engineering floors in Carpenter Tower, an active member of Engineers Without Borders and member of the Quidditch team.
Circle K and Key Club are both branches of Kiwanis. A primary goal of both organizations is to make a difference by achieving a task that one person could not accomplish alone. All of the Kiwanis clubs complete nearly 150,00 service projects and raise about $100 million for communities, families and projects in the United States.
"One thing Circle K is very proud of is that we will go wherever the need is," Teich said. "We don't really have a focus. Our focus is anyone that needs help."
Teich believes students should get involved in organizations like Circle K since the wide variety of service projects provides them an opportunity to find which activities they enjoy most. "There is always going to be a service event that is tailored toward someone's skills or personality traits," Teich said. "This allows you to apply those skills to help you better understand yourself and where you are most happy."
One of the service projects that helped Teich find his niche is the Rest and Respite program. During this event, Circle K members travel to Waukesha to a company called Broadscope. Broadscope allows the parents of children with special needs to have a night off by providing a babysitting service. During this event Teich worked with a child named Aidan, who he started babysitting outside of Circle K.
"Even though it is a struggle for Aidan to listen some days, being able to get through to him and see him smile contributes to why I want to continue with service," Teich said.
Another event Teich has enjoyed participating in is the Halloween and Valentine's Day events set-up for kids at the Betty Brinn Children's Museum. Circle K participants' help set up workshops, food stations and dance floors so kids have the best experience possible.
"Many times people come up with better things they could be doing than service," Teich said. "For me service has always been the better thing I could be doing."
Since Milwaukee offers Marquette students numerous opportunities, Teich believes students should return the favor by participating in city based service projects. "People rave about the beauty of Milwaukee and how much fun it is, but is also very important to realize that there are areas of Milwaukee that need help," Teich said.
Circle K has gone around campus picking up trash to make Marquette look better since it helps represent our community. Teich stressed that even small efforts like that can help make a difference by contributing to the larger picture.
With the holiday season in full swing, there are even more ways to make a difference in Milwaukee. Popular holiday service projects include serving dinner at a local soup kitchen, buying presents for the less fortunate and donating clothes to the Salvation Army.
"At some point in everyone's lives, they will be in a situation where they need help," Teich said. "Being able to help people has always been one of the root values of my life."