Journey: Gregory Dobbs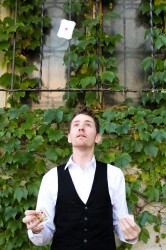 While walking through campus on a warm day, you have most likely seen him dressed in a top hat and overcoat while practicing his craft. Some call him "the magic guy;" others call him "the juggler." His real name is Gregory Dobbs.
Dobbs, a sophomore, is an advertising major in the Diederich College of Communications, but he is also an experienced magician, juggler and overall entertainer.
His interest in magic and juggling started out of complete and utter boredom. At the time, 14-year-old Dobbs didn't have many hobbies, until he discovered his drive for magic, a passion that still flows through him today.
"I didn't really have many friends, so as a 14-year-old with not many friends, I had plenty of free time," Dobbs said. "I needed something to do, so I turned to a hobby that made me feel smarter than everyone else around me."
Dobbs started out as a self-taught magician, until he met the ringmaster of local entertainment group Dead Man's Carnival at a magic program hosted at University of Wisconsin-Milwaukee. There, he was introduced to the group and invited to attend a show that, according to Dobbs, was incredibly raunchy and inappropriate for a 15-year-old. He loved it and never wanted to leave.
Since then, Dobbs was welcomed into the Dead Man's Carnival family. He learned new tricks, such as fire-eating and stilt-walking, and met talented performers who shared his interests. He can also juggle a hammer and an axe while eating an apple and claims to read minds for card tricks.
Performing with Dead Man's Carnival helped Dobbs improve not only as a magician, but also as an entertainer. He stressed that magic is about the presentation more than the technique. He admits mastering basic technique is important in the beginning, but if you can't keep a crowd interested in your show then what's the point? For him, a truly talented magician can make even the most elementary tricks seem entertaining.
"I've seen people who can juggle one object and make it look awesome," Dobbs said. "I've seen people who can juggle five objects and make it boring as hell."
When he is not with the carnival crew, he performs as a solo act at corporate events and on Summerfest grounds as a street performer.
Being a street performer is not the easiest occupation. Dobbs said he feels like people see them as one step above being a hobo. However, even when people do not pay him for his talents, or walk away with their heads down while he performs, it's a job he enjoys.
"It's totally worth it though," he said. "If you don't love magic, if you don't love juggling, do not do it as a profession. I'm unhealthily obsessed with both of them, so I'm lucky in that respect."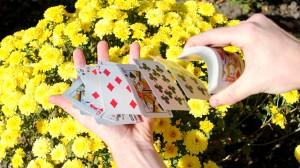 As for his future, Dobbs said he has reached what he calls a crossroad in his life. He could either use his major to search for a job, or continue with magic and juggling. Whichever path he chooses to journey down, he wants to be passionate about it. Having a passion or a determination to accomplish something is a quality that is important to Dobbs.
Like most college students, Dobbs has come a long way since his awkward early years of adolescence. He credits magic, juggling and performing for helping him gradually step outside of his shy bubble, and said it has made him the person he is today.
"Magic saved my life," Dobbs said.
He doesn't perform on campus often anymore (college students cannot afford to pay him for his talents), but if you see him juggling in front of the Alumni Memorial Building, stay for a minute to take in his passion.
View Comments (1)