University President Michael Lovell discussed his faith and how it directed his path to the Marquette presidency and guided him through difficult decisions at an Ignite workshop Nov. 4.
"When you're doing God's will, the road should be bumpy," Lovell said. "God calls us to do hard things, and we just have to trust him."
During the event, hosted by Catholic group Ignite and held at the Chapel of the Holy Family, Lovell said making decisions should not be about wealth, fame or power. Rather, he said they should be about God's will.
To follow God's path, Lovell suggested three actions to take: attend mass, make time for adoration and take part in reconciliation. Adoration in the Catholic Church involves being in the presence of the Eucharist, Jesus' body on Earth.
"Adoration is scheduled into my week," Lovell said. "Just like any other meeting."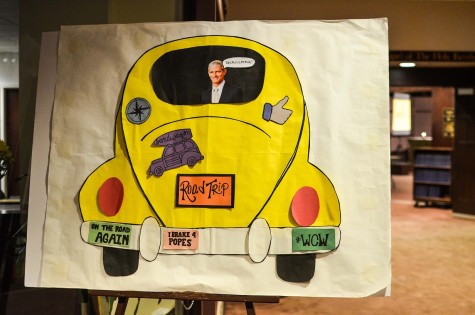 Lovell said faith played a major role in his journey to Marquette. He completed his undergraduate, graduate and doctorate degrees in mechanical engineering at the University of Pittsburgh. After he received his Ph.D., Lovell left for a job in Kentucky to teach.
After feeling like God had a different plan for his life, Lovell headed back to Pittsburgh. Six years later, and after accomplishing his goals, he felt it was time to move on from Pittsburgh to something new.
"I was getting called to do something more," Lovell said. "After several months of praying about it, I knew it was time to be a dean. I was being called to (the University of Wisconsin-Milwaukee)."
Lovell said he had to make sure his wife, Amy, and daughter, Marissa, were on board for the move. They decided to visit Milwaukee for a week and look at houses.
"When you place your trust God," Lovell said. "You do crazy things like that."
Soon after Lovell started his role as a dean at UWM, the chancellor left and he was once again called by God to do something else.
"I didn't want to lose opportunities if I didn't take the interim job," Lovell said about being chancellor. "I was called to Milwaukee to ultimately be a chancellor. God was just preparing me."
Lovell said he never considered a job at Marquette, even after former University President the Rev. Scott Pilarz resigned in 2013. A trustee at Marquette and several board members approached Lovell at different times to ask about his interest in the job.
At first, Lovell declined the position five times. He said he wrestled with the decision for a while until one day when he woke up feeling complete and total peace about it.
"This job is very hard but very fulfilling," Lovell said. "Something happens every day that helps me know I made the right choice."
Jonah Elliff, a sophomore in the College of Arts & Sciences, said this was the first time he listened to Lovell speak in person.
"I love that he makes so much time for his faith," Elliff said. "Hearing him talk about it was very inspirational."
Bradley DeGarmo, a sophomore in the College of Arts & Sciences, said he also enjoyed listening to Lovell talk about the importance of faith to him.
"I thought it was inspirational how Lovell went from wanting to be an engineer like his grandfather," DeGramo said, "to becoming the president of a university."
Benjamin Dorow, a senior in the College of Health Sciences, said he loved seeing an iconic figure being so outward about this faith. He said Lovell reached out to Ignite about doing the talk.
"The biggest thing I got out of it was him talking about not focusing on wealth, power and fame, but instead always bringing it back to faith," Dorow said.