EDITORIAL: Student accomplishments merit better publicity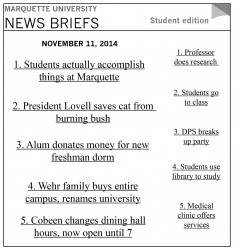 After years of effort, students from the College of Engineering will finally get to see their satellite, Golden Eagle 1, go into orbit, with an expected launch of fall 2015.
The launch is thanks to the NASA CubeSat Launch Initiative, a program through which students from universities across the nation participate in building satellites. Marquette's student participants' satellite was chosen for flight after a long and competitive selection process this spring.
There was potential for setback this summer when Robert Bishop, who helped guide the project for years, resigned as opus dean of the College of Engineering. The group said, though, that the university stepped in to make sure it continues to get adequate funding and support to meet its hopeful deadlines and complete the project it set forth.
It is not an everyday occurrence that a group of university students gets to launch a NASA-sponsored satellite into space, and it is extremely commendable that the university is making sure this feat sees its remarkable conclusion. It is an incredible achievement; however, at this time, university outlets are not really spreading the word, save for the Marquette Wire.
The university, not just student media, should openly praise student accomplishments such as these so that they can be made known to the Marquette community as a whole. By publicizing its students' achievements, Marquette would not only bolster its image as a university that produces high-quality student work, but also make its students feel valued and honored for their work.
The Office of Marketing and Communication has done this often in the past, including featuring a news article on the College of Engineering's participation in RoboCup 2014, where Marquette was the only American team participating in the robot soccer competition. The satellite, too, received some attention in the spring when the news first broke.
Achievements and goings-on outside of the College of Engineering are also limited in their exposure, and publicity is sometimes left up to the respective department or college. The university provided little publicity for the students who participated in the inaugural Marquette Undergraduate Humanities Conference this past spring, aside from a general call for papers, and little has been said for the Marquette Women's and Gender Studies Fellowship Presentations which will showcase students' works on Wednesday. More various and expansive coverage should be provided throughout the university.
The Office of Marketing and Communication sends its digest, "News Briefs," to Marquette students, faculty and staff on a biweekly basis during the semester, covering upcoming events and initiatives on campus as well as faculty accolades on occasion. The newsletter and OMC's Marquette Today website are ideal outlets to publish news on student and faculty achievements as well as ongoing projects.
Stories published through the site and newsletters are maintaining a focus on University President Michael Lovell's new and ongoing initiatives as of recently. While it is excellent to see such high involvement from our new president, it would be more interesting to see a variety of stories from across campus, emphasizing the efforts and successes of other individuals and groups.
If not through "News Briefs," there could be a separate method of highlighting student and faculty achievements, such as a weekly or monthly roundup of individual and group accomplishments to be sent out to the Marquette community. Using this format, the university would be able to touch upon a greater number of instances regarding student and faculty achievements, bringing better recognition to other individuals and departments that have otherwise been overlooked.
Student accomplishments are a clear indicator of a university's success as well. Promoting and better publicizing these successes are beneficial initiatives for an active student body and the institution's accomplishments as a whole.
The university is supporting student pursuits, as evident by its unwavering commitment to the CubeSat project, but the university community needs to keep hearing about them through its different mediums.
Leave a Comment