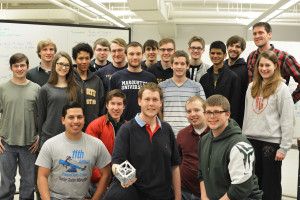 Years of student work came to fruition Sunday when the NASA CubeSat Launch Initiative approved a Marquette-made satellite to be sent to space.
Work on the satellite, Golden Eagle 1, began in 2010 when a few students approached Robert Bishop, dean of the College of Engineering, to get permission to build a satellite for the CubeSat initiative. NASA started the program in 2009, offering opportunities to universities and other organizations throughout the country.
Eric Jonardi, one of the original students to work on the Marquette University Space Craft Engineering project and a class of 2013 Marquette alumnus, said he is glad to see GE1 finally take flight.
"(Seeing it approved) was one of the best feelings," Jonardi said. "Personally, I put in a couple thousand hours into this project, and it was really good to hear that we're finally getting somewhere and we're actually on the official. It's great to know that all that work is worth something."
Weighing in at about 3 pounds and 27 x 10 x 10 centimeters in dimension, the GE1 can fit easily in one's hands. Advancements in technology allowed small satellites like GE1 to become a reality thanks to lower costs and more powerful software.
Though small in stature, the device is still powerful enough to capture the earth through two cameras that will take pictures while in orbit. Once in space, students will be able to control the satellite from campus.
"Our CubeSat carries two cameras, one infrared camera and one regular camera and the idea is to be able to take photographs of the earth in a visible spectrum and the infrared spectrum," Bishop said. "It's like a science. We'll compare what we see from the heat and what see visually."
Over the past three years, upward of 60 people were involved in the project, but not all were engineers. The project is part of an engineering capstone class and many students left their mark on it over the years. The students who were seriously involved in the process said it is a very rewarding program that provided valuable experience.
"The purpose of the project is to be a learning experience," said Jim Torres, a junior in the College of Engineering and member of the project. "The whole idea is you want to promote the growth of current students who otherwise wouldn't have been able to access this in the future which will better our future workforce."
Despite being approved for flight, the GE1 is not yet complete. Many of the parts and much of the software are still in building and testing stages and will be for months to come, but it is expected to launch in spring 2015.
"Now that we have a launch, we control our destiny," said Brian Gienko, junior in the College of Engineering. "We can now just have a 100 percent focus on the CubeSat and the software and programming."
Once prepared, GE1 will tag-along on a launch that can find room to transport it, which because of its small size, might not be hard to find.
In five rounds of approvals, 115 satellite projects from across the country were selected for the CubeSat Initiative.