Ten Big-Noggins We Hope to See in 2014-15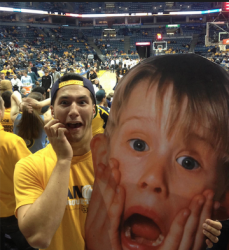 Fred Ferguson – This man is a stellar example of mental intimidation. He knows exactly how to get into the heads of opponents with his threatening black hoodie and menacing sunglasses. Oh, and we can't forget that gray goatee. Ferguson's news broadcast interruptions have become social-media-famous, and it's time to bring him to the Bradley Center.
Hans and Franz – These two iconic SNL characters were brought back to life this year through an Aaron Rodgers State Farm commercial. Coach Wojo and the team could use those Austrian muscles to "Pump – *clap* – MU up!"
Eli Manning Face – Not much is as absurdly distracting as the New York Giants quarterback pulling his signature face that rolls frustration, disappointment and misery all into one. Most students have seen this face somewhere on social media; those who have seen it realize that Eli could cause quite the havoc for opposing teams.
Lloyd Christmas (from "Dumb and Dumber") – Jim Carrey's classic character returns this month in the film's sequel, "Dumb and Dumber To." The ex-limo driver is sure to bring lots of laughs to the Bradley Center for Marquette basketball. The building will get loud with Lloyd Christmas in the room. Let's just hope he doesn't drop the most annoying sound in the world.
Pee-wee Herman – This man has been out of the spotlight for too long. Paul Reubens created the character and struck fame with the hit TV-series "Pee-wee's Playhouse," a children's show with enough crude humor to draw in adults. With rumors of another Pee-wee film in the works, it is only fair to represent the exuberant bow-tie enthusiast at Marquette this year. "Today's secret word is: Wojo. Ah!"
Clay Matthews (with beard) – Packers linebacker Clay Matthews has always been a scary dude. The beard leaves us speechless.
Jules Winfield (from "Pulp Fiction") – Samuel L. Jackson's iconic character strikes fear in anyone who crosses his path. With those bulgy eyes and booming voice, Jules's quoting of scripture will serve as Marquette's guiding force to victory.
Marquette's "Jump Around" Guy – We don't know much about this man, but we do know that he shows up for every Marquette basketball contest there is. Returning Marquette fans are very familiar with this man. He is most notably shown on the Jumbotron during the arena's "Jump Around" segment. His famous mustache is enough to ignite a crowd of MU fanatics and we hope to see a Big-Noggin in his honor.
Nicolas Cage (Meme Face) – "You Don't Say!" Let's get this blown up. Seriously. This could terrify anybody who walks into the building. For all the work Nicolas Cage puts into his acting career, he deserves his very own Marquette Big-Noggin
 Steve from "Blue's Clues" – We all need a piece of our childhood with us as we cheer on the Blue 'n' Gold. Steve puts it best when he says, "We can do anything we want to do." Thanks for the lifelong encouragement, Steve. Let us make you into a Big-Noggin. We owe it to you.