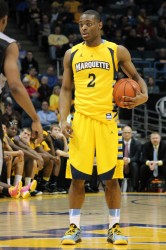 Normally a squad of upperclassmen with lots of experience, the Marquette men's basketball team enters the season with a lot of new, young faces. Paired with a relatively inexperience coaching staff, the Golden Eagles will have a lot to prove this season, and the squad is up to the task.
On the court, the Golden Eagles have seven underclassmen on the roster. Sandy Cohen III, the lone recruit of former coach Buzz Williams to stay at Marquette, enters the season as the team's only true freshman. Duane Wilson redshirted last season after suffering a foot injury, which means 2014 will essentially be his freshman season. Then there are sophomores John Dawson, Deonte Burton and Jajuan Johnson, all of whom saw some playing time last season.
The team may be youthful in age, but not experience. Burton said the age of the players does not mean much on the court.
"I feel being young doesn't necessarily mean anything," Burton said. "It's how mature you are as a player. I feel like we have a mature team and will be just fine having younger players."
The challenge will be for these young players to step up and take over a significant amount of time and minutes. The loss of graduated seniors Davante Gardner, Jamil Wilson, Jake Thomas and Chris Otule, along with Todd Mayo foregoing his senior season to play professional basketball, leaves Marquette without 71 percent of its scoring and 61 percent of its minutes from a year ago.
In order for the team to succeed, the underclassmen, namely the sophomores, will have to collectively replenish those lost minutes and scoring.
Johnson and Burton will be the two who must step up significantly. Burton is the team's leading returning scorer, but averaged just 6.9 points per game last season. Johnson averaged 4.3 points per game and saw more average playing time than Burton did, but in 11 fewer contests.
This season, the two will be primarily coming off the bench to provide scoring, and could see some time in the starting lineup. Burton and Johnson's experience should help them make the transition into becoming impactful players.
Wojciechowski said in college basketball, experience leads to better basketball, which is an advantage for guys like Johnson and Burton.
"The more experience you have the better," Wojciechowski said. "The experience they got last year, I think, will hopefully help them this year."
Wilson and Cohen III have the most to prove, as neither played under Williams. Not playing under Williams' system helps the two acclimate to Wojciechowski's playing style even quicker. At the same time, the lack of playing experience could be a significant disadvantage.
Johnson said Cohen III has played well in practice and does not show the signs of a first-year player.
"We've only got one freshman, and he's not playing like a freshman right now," Johnson said. "We're going to be ready to go."
The Golden Eagles view their majority of underclassmen positively. The underclassmen don't know how to play badly and they don't know they're supposed to lose. But most importantly, the younger players buy into the system because they haven't been taught how to play any other way.
Duane Wilson said the style Wojciechowski brings to the program excites his teammates.
"The energy around here is crazy," Duane Wilson said. "I feel like we're going to have a very good team. As a team, we've got a chip on our shoulder."
Marquette is a young team, but the youth ignites the team. Wojciechowski brings an intense style of play and having young guys with lots of energy and a willingness to learn helps the system work.
Duane Wilson said while the team may not have the most experience, it is still expecting to win.
"We don't have too much experience this year," Duane Wilson said. "Most of the young guys haven't played in the NCAA Tournament. We're going to be good, but this year is going to be more of a learning, more of a building season."