GOLDEN EAGLE: Deep backcourt will take pressure off frontcourt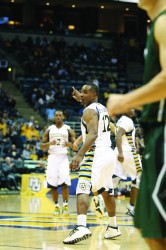 An old adage of college basketball is guard play makes or breaks a team's season. For Marquette, guard play was the Achilles' heel last season, as the team could not get consistent production from anyone in the backcourt.
The days of Darius Johnson-Odom, Junior Cadougan or even Vander Blue running the floor are long gone. Last year's backcourt consisted mostly of Derrick Wilson, Jake Thomas and Todd Mayo. The latter two are no longer on the roster. Thomas graduated and Mayo left the school to pursue a professional career, and Wilson was arguably the most scrutinized player on the roster last season.
Coach Steve Wojciechowski made a big addition in the offseason by landing senior Brigham Young transfer Matt Carlino, who has the inside track at starting this season. In his final season at BYU, Carlino averaged 13.7 points, 3.4 rebounds and 4.3 assists per game. Marquette will need Carlino to take a big role in replacing Mayo's erratic production.
"I anticipate it (Carlino's presence) being very impactful," Wojciechowski said. "I think Matt's a really good player. He gives us the ability to play him at the point and he's comfortable playing off the ball. If there's one guy in our program who is a proven scorer at the college level, he is it. He can score with the ball in his hands and he can score off the ball."
Those various types of scoring will be something Marquette desperately needs from Carlino. He said the best way to prepare for this featured role is to play the game as he always plays it.
"(I) just (need to) be a play-maker and just be there for the younger guys on the team," Carlino said. "Just be experienced. Play my game and do what coach asks me."
Experience and scoring are two traits Carlino possesses and the rest of the backcourt lacks. Wilson has plenty of experience – he logged an average of 30 minutes per game last year – but averaged an anemic five points. The rest of the backcourt is loaded with scoring ability, but is raw and inexperienced. Wojciechowski acknowledged his backcourt's youth, but expressed optimism about their potential.
"I think we have a number of guys who are unproven at the college basketball level," Wojciechowski said. "But I'm feeling we'll have a number of guys who do prove themselves."
The most upside comes from redshirt freshman Duane Wilson, who missed his freshman campaign with a leg injury. A consensus top-100 recruit from the class of 2013, Duane Wilson could be relied upon heavily to provide a scoring punch alongside Carlino at both guard spots. He said having to know two positions in his first full season will not be a terribly difficult task to grasp.
"It's not too tough, but it's kind of fun playing more than one position because it's more minutes opened up for you and you're being more versatile and can play any position," Duane Wilson said. "I really like playing the one and the two, I really don't have a favorite. I just want to do whatever it takes to win."
Wojciechowski was complimentary of Duane Wilson and said he is impressed by the many ways he can put the ball in the basket in the early stages of the season.
"I think Duane's going to be a terrific player at Marquette," Wojciechowski said. "I think he's a guy who is capable of running a team. A lot of his best moments thus far have come with his ability to drive and score the ball. He has a knack for scoring. I think he's at times going to be at the point guard position and at times he's going to be off the ball. I'm excited for him."
The Golden Eagles will also need contributions from sophomores Jajuan Johnson and John Dawson, who played sparingly in their freshman seasons. Johnson is a talented player, but never earned the trust of former coach Buzz Williams. He played about 13 minutes per game, but did shoot more than 44 percent in his limited playing time.
Dawson got an unexpected spike in minutes relieving Derrick Wilson at point guard after Duane Wilson went down with the injury. Dawson showed flashes as a shooter in his time on the floor, but was not a great facilitator. This season, Dawson said he could see more time playing off the ball, which he said is perfectly fine.
"With the personnel we have this year I see myself playing more at the wing than at point," Dawson said. "I probably can shoot it better than I can pass, so I would say I'm better at the two, but I'll play any position I can to get on the floor."
One message Wojciechowski had at media day was to not expect his guards to play only one position on the floor.
"With our personnel, we have to have guys ready to play multiple positions," Wojciechowski said. "It's not like we have a depth chart. We have some guys, because of the limitations of our roster, who have to be prepared to play multiple positions."
Marquette may not have a depth chart, but it will need plenty of depth in the backcourt to overcome a lack of depth down low. The team could get plenty of scoring production from Carlino and Duane Wilson in extended minutes, with Wilson playing more as a defensive specialist. If Johnson and Dawson develop nicely, the Golden Eagles could have one of the deeper backcourts in the Big East and are on track to defy their lowly expectations.
Leave a Comment