Over 90 attend vigil for student injured in Madrid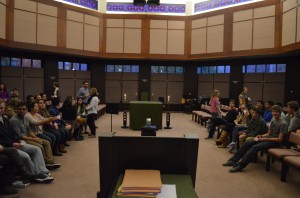 Around 100 people gathered in the Chapel of the Holy Family on Friday to pray for the health of Jennifer Waters, a junior in the College of Business Administration who was studying abroad in Madrid when a car grazed her Sunday while she was walking to a religious service.
Waters reportedly fell back and suffered a cranial fracture, and had surgery to stop the bleeding before being put into a medically induced coma. She had two more surgeries Tuesday, in which portions of her skull were removed to relieve pressure in her brain.
During the service, Waters was said to be in critical but stable condition, still in a medically induced coma. She developed a lung infection that doctors say is fairly common for her condition and is being treating with antibiotics.
"(Waters) will be a great mother someday. She's really calm and really inviting and really friendly with everybody," said Erik Anderson, a senior in the College of Engineering. "She always seemed to have that caring and protective spirit over everyone. She just touches so many people's lives."
The gathering began with a silent prayer followed by group prayer, then a gospel reading and candlelight vigil. Afterwards, Water's friends invited everyone to write letters to Waters and her family. That is when tears came.
"She is a loving soul and she is a bright light. Anyone who comes in contact with her, she just brightens the day. She always brightens my day," said Maryclaret Ndubuisi-Obi, a senior in the College of Health Sciences. "It's great to know that a person like that is in this world."
Friends remembered how much Waters liked music, especially discovering new bands.
"We used to have these little competitions, like who knew the more obscure band," Anderson said. "She said she always wanted to learn bass. I told her when she comes back from Spain I'll give her my bass and she could learn that way."
On campus, Waters worked at the Brew Bayou in Cudahy Hall and was an InterVarsity After School Arts and Tutoring director and bible study leader.
"She shares that love that Christ gave her to everyone," Ndubuisi-Obi said.
Leave a Comment