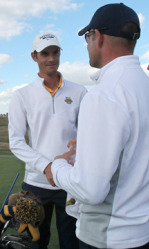 The Marquette men's golf team competed in the Erin Hills Intercollegiate, finishing third after withstanding late pushes by Northwestern and South Florida. Marquette shot a 878 for the entire tournament, just 19 strokes behind champion California – Los Angeles.
Marquette opened up the tournament with a 299 in the first round and were trailing UCLA by only five strokes heading into the second day of play. In the middle round, Marquette shot a 295, four strokes better than its opening round, but still dropped into third. In the final round, the Golden Eagles played its best round, shooting a four-under 284. With the 284, Marquette was able to hold off the No. 7 South Florida Bulls.
Leading the way for the Golden Eagles was senior Brandon Cloete. Cloete shot a two-over 218 for the tournament, including a 70 on the final day. His 218 tied him for seventh, marking the second straight tournament where he finished in the top-10. Junior Pat Sanchez was close behind him, shooting a 220 for the tournament. Junior Nick Nelson's and sophomore Henry Klongland's 222s and freshman Trevor Thomas's 224 rounded out the tournament for the Golden Eagles.
Overall, coach Steve Bailey told GoMarquette.com he was happy with how Marquette played in the tournament.
"We put ourselves in position on the final day," Bailey said. "Having our guys stick to the gameplan is what I am most proud of. It's about going out and sticking to what we've been doing all year long. To have contributions from everyone and be in competition down the stretch with some top 10 teams and to beat some of them was nice."
The Golden Eagles are off until Oc.t 25-26, when the team travels to Greensboro, N.C., for the Bridgestone Golf Collegiate.