Robinson finds familiarity down in Puerto Rico
The course at Grand Reserve Golf Club in Puerto Rico reminded senior Josh Robinson of his course conditions back home in Northern Ireland.
"The course was set up differently than last year's tournament, and there were 20-30 mile-per-hour winds, something I'm used to at home," Robinson said. "We had to play off of feel all week and trust our instincts."
His familiarity with how the course played was a factor in his career-best performance at the Puerto Rico Classic. He tied for 14th out of 77 golfers in the tournament with a final stroke total of 210 (six-under). Robinson also shot under par in all three rounds. That performance helped Robinson earn Big East Male Golfer of the Week honors.
It was the team's first tournament since the Cal Poly Collegiate at The Preserve Golf Club on Nov. 1.
Sophomore Patrick Adler said it felt good returning to competition.
"Everyone on our team loves to compete and to be in Puerto Rico with the top teams in the country," Adler said. "We felt like we weren't far from being with those top teams."
While the team has been able to work inside over the offseason, assistant coach Jace Long said that working away from the course can only simulate so much.
"Not being outdoors like Southern schools is a challenge, but we have great resources indoors like the dome (at Valley Fields), which helps to see ball flight," he said. "We traveled to Arizona twice over the break, one of those coming right before the tournament."
During the second trip, Robinson felt he could shoot well in the upcoming tournament due to a confidence-boosting practice round.
"We played at Superstition Mountain Country Club in Arizona, and I was talking to Jace on the range about feeling good heading into the round. I ended up shooting seven under par, my best score at Marquette; something just clicked for me," Robinson said. "From that day heading into Puerto Rico, I felt calm where I was with my game."
Robinson said that preparation for the course also played a role in his rounds at Grand Reserve.
"I studied the course heading into it, so I felt prepared," Robinson said. "Preparation is important for me; I get to know different spots on the course and trust my instincts out there through my work heading into a match."
Adler said Robinson executed well in Puerto Rico.
"If you missed greens, you had to know where to miss it, so you have to stick to your plan and execute, and I think that Josh did a great job of that," Adler said. "He hit it in some good spots, and you can see on his scorecard that he didn't make many mistakes."
Robinson had three bogeys across the entire tournament. Long credited Robinson's hard work for his recent success.
"We tell the guys if you feel you prepared well enough for your next event, to look at yourself on the first tee and say you are ready to go, then you did everything you could to get ready for the event," Long said. "In Josh's case, he comes in on his own time and does the same things every day, which works for him. As coaches, we stay on him to stick with it."
Long also praised Robinson's growth as a golfer over the last two seasons.
"His improvement over the past year and a half now has been cool to watch," Long said. "He is about two shots better on his scoring average since the start of his junior year, which equates to around six shots per tournament."
Robinson said he credits his course management, the ability to know how to handle different scenarios on the course, to Tiger Woods.
"Tiger is one of the best at managing golf courses," Robinson said. "I am big on that. I am smart on the course and know how to play different tracks well."
His marksmanship comes from Tiger too.
"He was one of the most conservative players; he had a target and focused on hitting that target. That's what I went to do in Puerto Rico," Robinson said. "I can pretty much say that I hit every target I aimed at; it is a nice feeling knowing that doesn't happen often and going into next week's tournament in Arizona."
Robinson looks to keep up his strong play at Palm Valley Golf Club in Goodyear, Arizona for the Loyola Intercollegiate Feb. 26-28. He doesn't plan on this past week's award being his only honor.
"It is my first time getting this honor, and it goes to show the hard work I have put in is showing results," Robinson said. "Just because we have achieved something doesn't mean we stop."
This story was written by Trevor Hilson. He can be reached at [email protected] or @hilsontrevor on Twitter. 
Leave a Comment
About the Contributor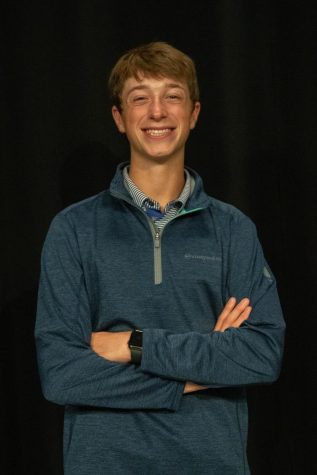 Trevor Hilson, Sports Reporter
Trevor is a sport reporter at the Wire.He is a first-year from Muskegon, Michigan studying journalism.

In his free time, he enjoys sports but especially...