Women's tennis competes in Wildcat Invitational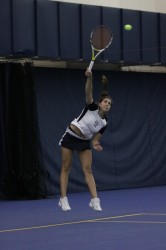 By Hayley Keith
The Marquette women's tennis team finished up the Wildcat Invitational in Tucson, Ariz. this past weekend, completing an active week for the squad.
Marquette started the tournament off strong. Junior Erin Gebes won every match she played in Friday. Gebes and senior partner Ana Pimienta moved past New Mexico, Arizona and Mississippi State in the first two rounds. Gebes and Pimienta advanced to final round of the main draw against Arizona's Hanna Sohn and Shayne Austin. Gebes and Pimienta put up a good fight against the host team, but fell in a 7-8, 1-7 decision.
Gebes also had a strong showing in singles play, making it to the third round of the main draw. Also advancing to the third round was senior Vanessa Foltinger and freshman Paula Tormos Sanchez. However, Gebes, Foltinger, and Tormos Sanchez all were unable to pull out the win to progress to the final round. Pimienta dropped her first singles match, but rallied in the back draw, going undefeated for the rest of the tournament.
The men's and women's teams will resume match play Oct. 16 and 17, respectively. The women will travel to Champaign, Ill. to test their skills at the ITA Regional Championship. The men will return from their break by competing in the ITA Midwest Regional in Ann Arbor, Mich.