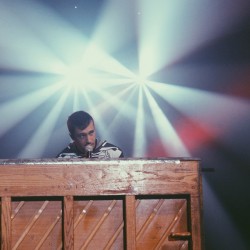 In April 2013, rising indie rock band twenty one pilots performed in the Varsity Theatre in front of a small group of Marquette students as part of Student Media's spring concert series. The band had recently been named one of MTV's artists to watch and was just beginning to experience mainstream success for their stylistic blending of alt-rock, punk, pop and every genre in between. Since then, their first full-length studio album, "Vessel," spent 27 weeks on Billboard's Top 100 chart and band members Tyler Joseph (lead vocals) and Josh Dunn (drums) have been selling out venues across the country. On Saturday night, they returned to Milwaukee to play a sold-out show in the Eagles Ballroom.
After solid opening performances by local band Vinyl Theatre and rising indie-pop group MisterWives, it was clear that audience members were anxious for Joseph and Dunn to take the stage. In the year they were on the road, twenty one pilots developed a reputation for their high-energy stage antics. The band's rock 'n' roll escapades include, but are not limited to, crowd surfing, stage climbing and placing an entire drum set (drummer included) on a small wooden platform mid-song and forcing audience members to carry it through the crowd.
This energy combined with the band's latest musical success has developed a small, but dedicated fan base that is as unique and diverse as the genre itself. Saturday night's Ballroom crowd was an eclectic audience of drunk college kids, angsty skull-face painted teens and very bored-looking parents. Powered by angst, hormones and cheap beer, the overly enthusiastic audience cheered for just about anything. Changing out set pieces merited cheers. Employees sweeping the stage were met with applause. The bearded hipster who stormed the photo pit and attempted to stage dive earned his deserved share of chants and screams.
Finally, the lights dimmed, the stage flooded with fog and an ominous electronic voice (later introduced by Joseph as "Nigel," the tour's unofficial electronic emcee) ushered Joseph and Dunn on stage to begin their set. In typical twenty-one-pilots-style, each was wearing a ski mask. Beginning with the opening song, "Guns for Hands," fans proved their extensive knowledge of the bands short career as they sang the words to every verse of every song.
After playing a few hard-rocking songs like "Migraine" and "Ode to Sleep," Joseph ditched his mask, donned a colorful Hawaiian shirt, picked up a ukelele and dove into "Screen," a sweet song with a catchy and cathartic chorus that chants: "We're broken people." The audience continued to chant this for the remainder of the song, drowning out both Dunn and Joseph. It served as chilling attribution to the intensity and dedication of the fan base that twenty one pilots has developed in Milwaukee in just under five years and after just three shows.
Perhaps it was the strobe lights, hypnotizing backdrop, intoxicating smell of artificial smoke or a combination of the three, but the band had total control of their audience. At one point they acknowledged this when Joseph asked the crowd to hold up their cell phones, simply saying "This is something you're gonna want to see." For two minutes, nothing happened. People just stood staring at an action-less stage.
"You could all stand here for 10 minutes and I might do nothing," Joseph said. "You'll still be recording." Eventually something very exciting happened. Dunn ditched his complex drums for a slightly smaller set that stage hands had placed  on a wooden platform. Slowly, the drums were passed into the crowd a few feet from the stage. After a moment of silence, brief concentration and a prayer to the gods of rock 'n' roll, he leaped, landing successfully and playing the rest of the song while crowd/drum surfing.
These antics continued well into the encore performance of "Car Radio" when Joseph left the stage, ran to the back of the venue and climbed the scaffolding. Wearing his signature ski mask and standing on a slim platform 10-15 feet in the air, Joseph concluded the set passionately.
"It's been real Milwaukee," Joseph said at the close of the show. "But this is the last time we'll see you with this album." If twenty one pilots returns to Milwaukee with a new album and antics, their fan base is sure to continue growing.
Story continues below advertisement