OK Go experiments pop sound on 'Hungry Ghosts'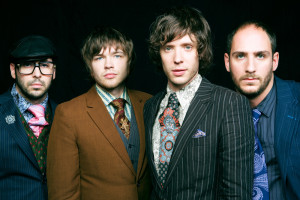 Alternative indie pop band OK Go is hitting the road for the first time in four years with a new tour, a new album and an experimental pop-infused style. After releasing several singles from its upcoming album, "Hungry Ghosts," anticipation for the band's Oct. 10 show at Turner Hall builds as it finished up a summer/fall tour and prepares for a shifting musical career.
The now LA-based quartet originally formed over a decade ago in Chicago and released its first self-titiled album in 2002. Although the band's initial work helped it gain notoriety and top charts, members Damian Kulash (lead singer), Andy Ross (guitar/vocals), Dan Konopka (drums) and Tim Nordwind (bass) are best known as those guys who won a Grammy for dancing on treadmills back in 2006. OK Go's distinct and inspired approach to creating songs and videos have since helped the band sell more than 600,000 albums and gain over 150 million views on YouTube.
After a four-year hiatus, the band spent its summer touring across the U.S. in preparation for the release of its fourth studio album on Oct. 14. Despite the long and busy summer, Nordwind said that the musicians have enjoyed their return to the tour scene and look forward to the upcoming Milwaukee show.
"It's nice to be able to connect with people face to face," Nordwind said. "We love making videos, but you can't watch people watch the music videos. It's really nice to connect with a room full of people and have party together." 
Although OK Go has experienced great success with a signature, cathartic rock 'n' roll sound on previous albums, Nordwind said that fans can expect a slightly different style on "Hungry Ghosts."
"I think it's the best thing we've done to date," Nordwind said. "But it's probably the most pop record we've ever written." He said that the band was inspired by the upbeat and fun music of artists like New Order and Prince, bands they had listened to as kids.
"We wanted to create music that's very joyful and fun to listen to," Nordwind said.
OK Go's new experimental style is already evident in the four released "Hungry Ghosts" tracks. Songs like "Turn Up the Radio" and "The Writing's on the Wall" showcase a reduction in guitar and an increased use of rhythmic synth, minimalism and club-like dance beats. According to Nordwind, the currently unreleased track, "Obsession," follows a similar pattern and has been one of his favorites to play on tour.
"It's been going over extremely well live," Nordwind said. "It's a fun, sleazy dance song that sounds like it should be playing at a club at three in the morning."
Despite "Hungry Ghost's" pop-inspired roots, he insists OK Go has not lost its signature edge. Not all songs off the new album are what Nordwind called a "happy-happy good time." The band still strived to create songs that made audience members feel, in his words, "comfort, love, longing, whatever."
"I want people to go through the human experience when they hear this music," he said. "Even if it's just for three minutes, I want them to feel like they're not alone."