College of Education to stay on course amid political fights on standards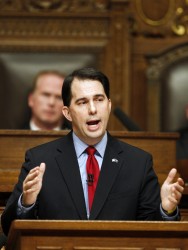 Even though Wisconsin's educational standards seem to be up in the air after Gov. Scott Walker announced that he wants to repeal Common Core, administration in Marquette's College of Education said they feel prepared.
"We are still having our students address their lesson plans to the Common Core standards," said Joan Whipp, director of teacher education and an associate professor. "As of now, schools don't think this change is going to happen and we are proceeding as normal."
William Henk, a professor and Dean of the College of Education, said  "because schools have been preparing for Common Core and we have been preparing our aspiring teachers to go into Common Core schools, that die is cast and the professors will not see a reason to suddenly shift away from that because, like me, they are anticipating that even if Wisconsin does repeal Common Core and set up their own standards, they will be very similar to the standards of before."
Common Core became a hot-button issue in Wisconsin in the last legislative session when state Republican lawmakers proposed to rewrite the nationally developed standards in March.
In response, more than 100 school district officials came to Madison to express support for Common Core, the Milwaukee Journal Sentinel reported.
Common Core education seeks to define what students' knowledge and skills should be at the end of each grade in core academic subjects with the hope being that students across the state would be on the same educational track.
The standards were created by education reform groups with input from education experts, as well as from Wisconsin, to make academic expectations more rigorous. Although most states adopted the standards back in 2010, the Obama administration offered incentives for more states to take on the reforms.
Common Core education has been losing support this year in other states, with Indiana, South Carolina and Oklahoma dropping the standards and other states, like Missouri, moving away from Common Core by starting discussions on how to revise their education standards.
Gov. Scott Walker is attempting to repeal these education standards in the state of Wisconsin and replace them with "standards set by the people in Wisconsin," Walker said in a statement.
Walker is up for reelection this November in a neck-and-neck race against Democratic candidate Mary Burke, who has expressed support for Common Core.
Despite the possibility of these new standards, Henk said he believes not much will change in the preparation of students to be future teachers.
"The idea behind the Common Core is to set the bar high for academic achievement and that will always be the goal behind the preparation of teachers," Henk said. "Our hope is that our aspiring teachers are well equipped to enrich and deepen students' learning, and that is always with an eye on onward and upward."
Walker's bill will come to Legislature in January, when it will be determined whether Common Core will be upheld or eradicated in Wisconsin.
"I am very sure schooling is moving in the direction to have higher academic standards and be more specific in higher level thinking demands," Whipp said. "We have been preparing our prospective teachers to meet these rising standards. I don't think there is a lot going to happen that would change this."
Leave a Comment