Student to sit on dean search committee for first time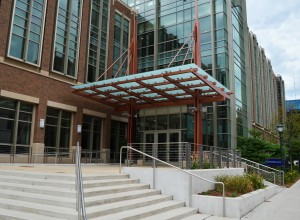 For the first time in recent years, a student will sit on a search committee for a dean.
Abigail Deats, a senior in the Opus College of Engineering, will sit on the search committee for the Opus Dean of the Opus College of Engineering, a university news brief said Thursday.
University spokesman Andrew Brodzeller said it was required that the student candidate be a senior that the rest of the committee can trust.
"Confidentiality is an important part of the searches and (Deats) understands," Brodzeller said. "Moving forward, the university want to continue including students on search committees."
In August it was announced that Kyle Whelton, Marquette Student Government president and senior in the College of Arts & Sciences, will sit on the search committee for the next university provost.
The committee is chaired by Daniel Zitomer, professor of civil construction and environmental engineering, and director of Marquette's Water Quality Center.
The Opus College of Engineering dean search will trail the provost search by four to six weeks, Brodzeller said this is to benefit both the provost and dean candidates, since the two roles will work closely with one another.
Other representatives on the committee from the college of engineering include Taly Gilat-Schmidt, associate professor of biomedical engineering; Fabien Josse, professor of electrical and computer engineer; Patrick McNamara, assistant professor of civil construction; and Phil Vogelwede, associate professor mechanical engineering.
The search committee's professors and lone student representative are joined by Michael Farrell as an alumni representative; Marilyn Frenn, nursing professor and University Academic Senate representative; Joseph Kearney, dean of the Law School; and Cherryl Thomas, vice chair of the Board of Trustees.
This story was updated on Sept. 11, 2014 at 7:03 p.m. 
Leave a Comment