REBHOLZ: Change at MU was always a part of the plan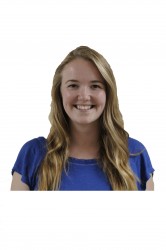 At the New Student Convocation in 2011, former University President the Rev. Scott Pilarz gave his first speech to freshmen and transfer students. He said something that neither my parents nor myself will ever forget: If we did not change in the next couple years because of our experiences at Marquette, he would fully refund us our tuition money.
Looking up at my dad who was sitting all the way at the top of the stands in the Al McGuire Center, he mouthed, "Don't you dare change!" Unfortunately for my parents, there will be no tuition reimbursement, not only because Pilarz no longer works here, but also because the last three years were unpredictable.
Aside from all the major administrative changes, another increase in tuition and no foreseeable plans for the demolition of McCormick, Marquette has an exciting future ahead of itself with its first lay president in university history and a new athletic director. It may seem like the university is unstable and without direction–Deadspin said it "is a rudderless ship"– but Marquette taught me to accept change rather than avoid it, and the university will do the same.
The greatest example of change in my life comes from my grandma. Initially, she wanted to transform her love and passion for English into a career in journalism. The night of her high school graduation, my grandpa proposed to her, she said yes, went on to start a family but never had a journalism career. Eleven children, more than 90 grandchildren and great grandchildren and several address changes later, she still has not had her byline attached to a story or a column because she accepted change and had a fulfilling life because of it.
In many ways, my grandma and I share a similar experience. Up until my last day as a junior at Marquette, I thought marketing and photography were my career paths. But today, I am the managing editor of the Marquette Tribune. Journalism was never something I expected to do with my declared major and minor, but I took on the challenge without a second thought. I am out of my comfort zone, and that is OK.
It is inspiring for students to see how the leadership changes at Marquette are developing with leaders like University President Michael Lovell. Lovell said when he took the job, "(Becoming Marquette's first lay president) was never my plan but one that God had laid out for me and I'm just really glad I decided to follow it." Lovell, my grandma and I all share similar experiences with and attitudes toward change. Last year my proudest moment was winning First Award Photography from the Wisconsin Newspaper Association Foundation. This year, in my first and possibly last column of my college career, I am proud to finally have the Rebholz name in the byline.
Leave a Comment