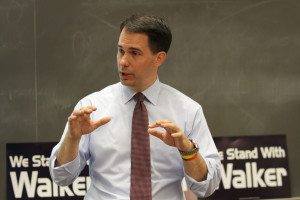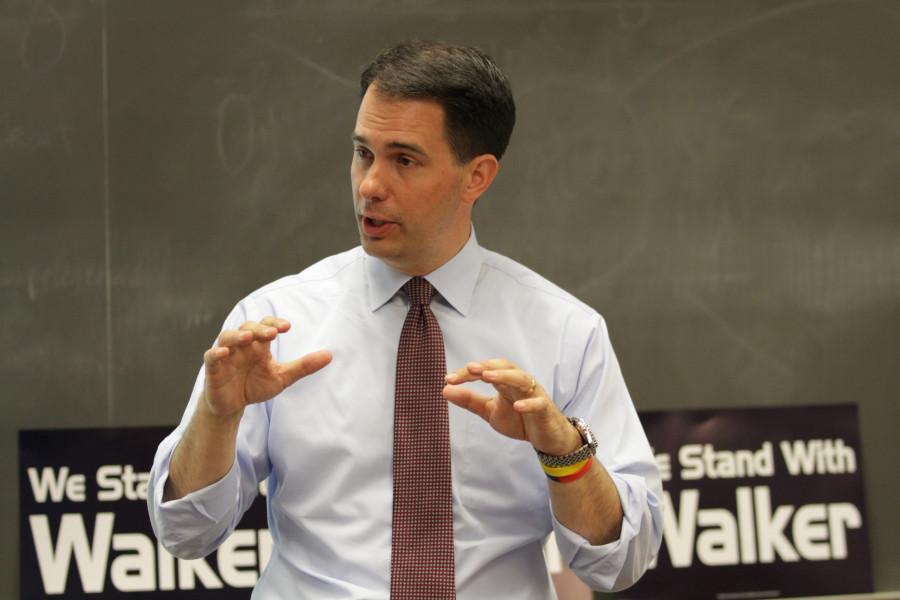 Gov. Scott Walker encouraged Marquette College Republicans to recruit voters for the upcoming election at the group's first meeting Wednesday night, stressing that post-grad employment depends on their votes.
"As students, you have to be thinking a little bit down the way," Walker said at the event. "You need think about getting a job — and not just a job, but hopefully a job in the career path you got your major in."
The governor also heavily criticized his Democratic opponent Mary Burke on her record of job growth as Secretary of Commerce under former Gov. Jim Doyle, blasting her for private sector jobs lost under the Doyle administration.
"They created fewer actual private sector jobs, even when there was no recession, than in any of the last three years," Walker said.
Walker is expected to release a jobs plan in the coming weeks for his second term if he wins reelection in November. At Wednesday's meeting, though, Walker outlined his general goals to stimulate the economy, including lowering taxes through budget surpluses and encouraging small business start-ups by breaking down regulations.
"This is a really tight election," Walker said. "It's probably not even, it probably leans a little to the Democrats actually. But with the right turnout and the right focus, we can make it work."
Walker's appearance at Marquette follows an announcement from him on Tuesday that he would not make a jobs pledge for his second term, the Milwaukee Journal Sentinel reported.
In his first run for governor, Walker promised to create 250,000 jobs during his first term, but only about 103,000 jobs were created over the past four years, according to data from the U.S. Bureau of Labor Statistics.
"I think it makes sense for Walker to not make a pledge if he's trying to focus efforts in other places — the job market is up," said Emmali Hanson, a junior in the College of Engineering who attended the College Republican event.
Members of Marquette's College Democrats, though, argued Walker's appearance was more about scoring political points than appealing job numbers.
"It makes sense that Governor Walker is reaching out to the College Republicans," said Aliya Manjee, chair of the College Democrats and a sophomore in the College of Arts & Sciences, in an email. "Young voters across Wisconsin are finding him out of touch with the issues they care about like student debt reform, reproductive rights and marriage equality."
The latest Marquette Law Poll released last week shows that the race between Walker and Burke remains neck-and-neck. Walker leads Burke by roughly three points, at 47.5 percent to 44.1 percent, among registered voters. Among likely voters, though, Burke led Walker 48.6 to 46.5.
Gaps for both registered and likely voters fell in the margin of error.