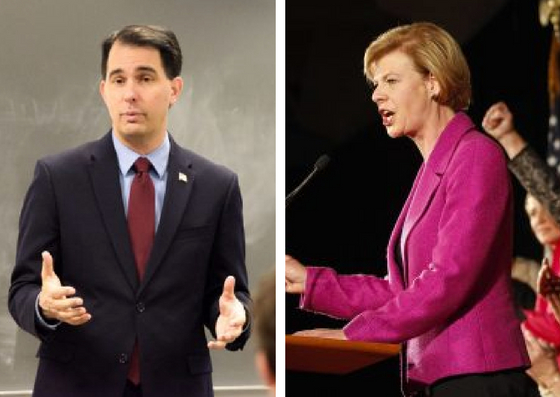 The Marquette University Law School Poll released new data today for their latest poll regarding the upcoming Wisconsin primaries. The poll, conducted June 13-17, sheds light on where voters around the state stand in the months leading up to the primaries, which are set to take place Tuesday, Aug. 14.
This year Governor Scott Walker (R) is running for re-election, and the August primary will decide which of the 10 Democrats currently in the field will gain the party's nomination to run against him. The poll found that one in three Wisconsin voters, across both parties, remain undecided on primary candidates. Among Democratic primary voters, 34 percent say that they don't know which of the 10 candidates they will support for the gubernatorial nomination.
This is the first time since October 2014 that Walker's job approval rating has been higher than his disapproval in the poll. Currently he is sitting at 49 percent approval to 47 percent disapproval, the same numbers as in 2014.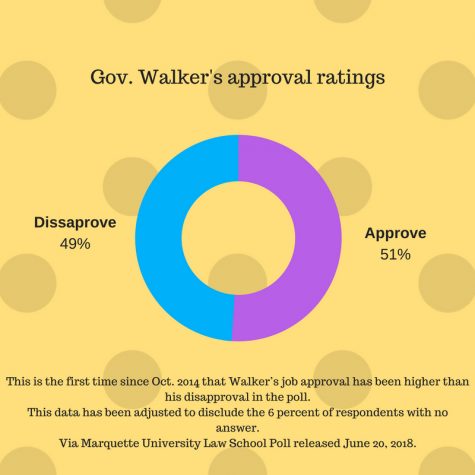 Here are previous approval ratings from past polls for Gov. Walker.

U.S. Senator Tammy Baldwin (D) also is running for re-election this year, but similar to the statistic coming from Democratic primary voters on the gubernatorial race, 30 percent of Republican primary voters remain undecided on who should face Baldwin in the general election.
These numbers have narrowed since the previous poll conducted Feb. 25- March 1 of this year, in which 44 percent were undecided in the Democratic primary and 49 percent were undecided in the Republican primary.
Many of the candidates facing those two incumbents are not well known to the constituency, therefore poll respondents don't yet have a strong opinion toward those candidates.
Comparatively, relatively few respondents lacked an opinion on Walker (3 percent) and Baldwin (15 percent).
Of the two Republican candidates vying for the party nomination to face Baldwin, Kevin Nicholson and Leah Vukmir are close in the percentage of voters who are undecided, sitting at 69 and 72 percent, respectively.
Walker and Vukmir, a current state senator and Marquette alumna, visited campus in March to promote political involvement. Walker has maintained he won't endorse a Republican senate candidate until after the primary, however his wife did endorse Vukmir in the Sun Prairie Star.
Baldwin faces a potentially close battle this November, with the poll finding she receives 50 percent to 39 percent of the votes in a race against Nicholson, with a slightly tighter gap of 49 percent to 40 percent versus Vukmir.
The poll sample included 800 registered voters, interviewed by cellphone or landline. The poll states there is a margin of error of ±4 percentage points.
The poll also asked voters other more general questions not regarding specific candidates. When asked if they see the state as headed in the right direction, 52 percent responded yes, while 42 percent think the state is on the wrong track. That is compared to the March poll, where 53 percent said right direction and 44 percent said wrong track. Those both come out to the same proportion of 55 percent right and 45 percent wrong when adjusting for those who didn't answer.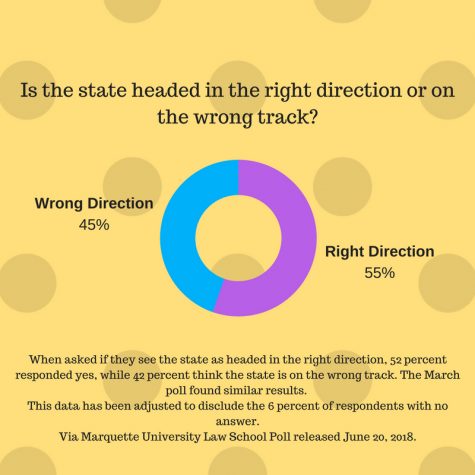 On local issues
The poll also asked respondents about a local issue, the debate over various aspects of Foxconn, which recently declared Milwaukee their North American Headquarters. The state of Wisconsin is giving the Taiwan-based company a $3 billion tax credit incentive package to build their new manufacturing center in Racine County. Views have shifted in a slightly more positive light for Foxconn, with 46 percent saying the state is paying more than the Foxconn plant is worth, while 40 percent think the plant will provide at least as much value as the state is investing in the plant. Thirteen percent say they don't know if the plant will be worth it or not. In the March poll, 49 percent said the state was paying too much and 38 percent said it was worth it.
Regarding a choice between reducing property taxes or increasing spending on public schools, 59 percent answered public schools and 35 percent answered property taxes. Those numbers are further apart than when first asked in March 2014, when 49 percent preferred to reduce property taxes while 46 percent favored increased spending for public schools. However the June 2018 numbers have shifted slightly from March 2018, when 63 percent preferred higher school spending versus 33 percent who preferred lower property taxes.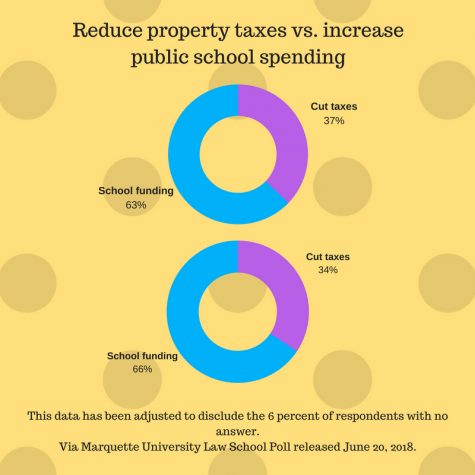 On national issues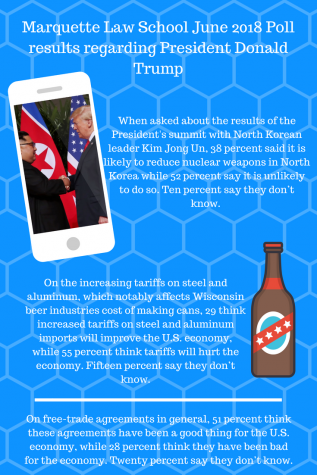 The poll asked a number of questions regarding President Donald Trump (R) and some of his recent policy positions.
The president's approval rating was found to be 44 percent with 50 percent disapproving.
When asked about the results of the president's summit with North Korean leader Kim Jong Un, 38 percent said it is likely to reduce nuclear weapons in North Korea while 52 percent say it is unlikely to do so. Ten percent say they don't know.
On the increasing tariffs on steel and aluminum, which notably affects Wisconsin beer industries' cost of making cans, 29 percent think increased tariffs on steel and aluminum imports will improve the U.S. economy, while 55 percent think tariffs will hurt the economy. Fifteen percent say they don't know.
On free-trade agreements in general, 51 percent think these agreements have been a good thing for the U.S. economy, while 28 percent think they have been bad for the economy. Twenty percent say they don't know.
Forty percent favor building a wall along the Mexican border while 55 percent oppose a wall. Four percent say they don't know.
On another note, the poll asked about the constituents' confidence in the Mueller probe and its ability to effectively investigate Russian involvement in the 2016 presidential election, as well as the ability of the probe to be fair and impartial. Both the number of voters saying they have "a great deal of confidence" and the number saying they have "no confidence at all" have grown. Twenty-nine percent say they have a great deal of confidence, while 32 percent say they have no confidence. That trend is shown in this chart below.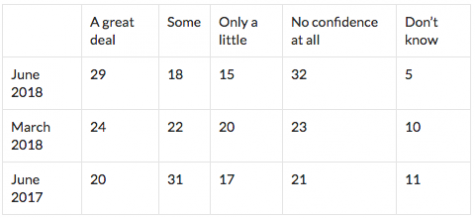 All of the findings from the poll as well as the complete questionnaire and explanation of methodology can be found on the Marquette University Law School website.