Marquette reacts to miderm election results
Around Wisconsin, people lined up Nov. 8 to elect government officials in the 2022 midterm elections. The races were close between new and incumbent candidates in Wisconsin.
Incumbent Republican Senator Ron Johnson won, beating former Lt. Governor Mandela Barnes by 1% of the vote. Meanwhile in the gubernatorial race, incumbent Democratic Governor Tony Evers also won the election by 3.4% against Republican candidate Tim Michels.
"It's almost a little confusing — the election results, because we see Tony Evers, who had about 1.3 and some change million votes and then we see Mandela Barnes who lost to Ron Johnson," Tommy Treacy, a junior in the College of Arts & Sciences and president of Marquette College Democrats, said. "What explains that variance?"
Treacy said despite not knowing these variances, one of the reasons Barnes may have lost while Evers won is due to Johnson's incumbent advantage.
Wisconsin has eight seats in the U.S. House of Representatives, all up for re-election this year. Six of the seats are Republican while two are Democratic.
Wisconsin has been called out in the past for an unfair electoral map. Democratic politicians have called for a more fair process to redistricting. Treacy said that this doesn't feel like the "democratic principles" that the United States is raised on.
"We live in a pretty much 50/50 split state, but Democrats have pretty much no chance in taking the majority in either chamber of the legislature," Tracey said. "Our wins come from protecting our seats and keeping Republicans from a veto proof majority."
For Aleks Hromic, a junior in the College of Arts & Sciences and treasurer for the Marquette College Republicans, said that the results were pretty much expected, but "disappointing."
"Many Americans and the projections predicted a shift to Republican control over the Senate since it seems people lost faith in the current administration, but this is not the result we got in this election which is why it's surprising," Hromic said.
Now, Hromic said he hopes that the current administration works on keeping inflation low and despite whatever happens with the economy, it's up to the Democratic Senate majority and office to alleviate the financial tension some people may be experiencing.
Treacy is hoping that Wisconsin Democrats can utilize their power to discuss topics like student loans, minimum wage, legalizing marijuana and abortion/reproductive rights.
While college political organizations grapple with next steps for their political parties, the political science department held a panel discussion Nov. 14 to discuss the election results.
The panel consisted of five Marquette University political science professors and covered many topics emerging from the election, from congress reconstruction to what it indicated about young voters.
"In 2014 29% of eligible voters voted here [Marquette]. That jumped by 15 percentage points in 2018. What 2022 is showing us is that markup is staying. It's durable. And Gen-Z voters are just more civically and politically engaged," Amber Wichowsky, professor and assistant chair of political science, said at the panel.
The panel believed that this current election introduced a new wave of American politics, citing how the main issues throughout the 2016 election were scarcely discussed in this midterm election.
The idea that this midterm election resulted in being more candidate focused rather than party focused was also discussed at the panel. They believe that this was especially relevant in Wisconsin, as evident by the victory of Democrat Evers as governor and Republican Johnson as senator.
The panel marked the recent midterm elections as just the beginning of what's to come for the 2024 presidential race. Within the coming year, the panel said they expect to see the candidates begin to emerge and for parties to adjust to the new wave of young voters.
This story was written by Julia Abuzzahab and Kiley Brockway. They can be reached at ju[email protected] and [email protected].
Leave a Comment
About the Writer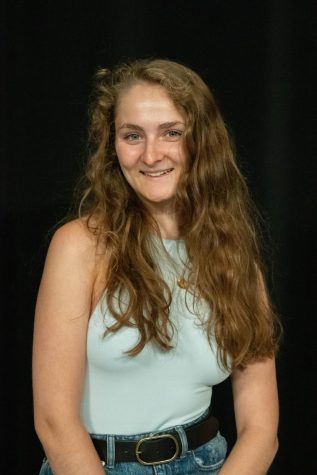 Julia Abuzzahab, Executive News Editor
Julia is the Executive New Editor at the Wire. She is a junior from Wausau, WI studying journalism and minoring in film & media studies.

In her...