The 2013-'14 academic year is almost over and soon it will be time for summer — a season long overdue for Marquette University students. During the winter it seemed to have snowed almost every day with temperatures that did not pass 10 degrees. The Polar Vortex kept people in their homes for three days, and wind chills 40 below zero led administration to cancel classes.
With the weather getting warmer, spring semester coming to a close and another year of classes shortly on its way, students have other things besides the weather to worry about — textbooks. When students finalized the classes they will be taking for the coming semester, they are able to see what and how many books will be needed for each class. Sometimes students will have up to five books for just one class, depending on the teacher.
In addition to the stress that may come from the number of classes they are taking, students may be stressed about how they will pay for multiple books. Where can you get the cheapest books? Who's selling a book you need? Do you even need the book, or can you breeze through the semester without it?
Some upperclassmen rarely buy books anymore, but for those underclassmen who do not have a choice, it is important to know where you are getting the best deal.
Philosophy 1001, Theology 1001 and English 1001 are just three of Marquette's core classes that all students are required to take.
In a comparison of book vendors, students can determine where they are more likely to save the most money when purchasing the following: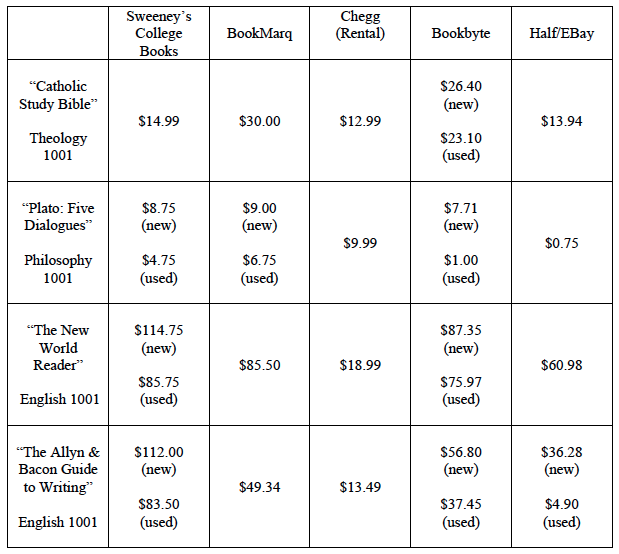 This comparison shows which book vendors have the best options for college students to buy materials. Bookmarq and Sweeney's Books are the most convenient bookstores for Marquette students, since they are on campus.
It is important to know the buyback policies, in case students want to sell their books back when the semester is over.
If students have books that are in demand for the following semester or needed at another bookstore, Bookmarq's policy says that they will buy the book for zero to 50 percent of what students paid for it.
Students should visit Sweeney's in person to determine if the store will buy a book back.
For students who buy their books online, Half lists books from individual vendors. Books ship from various warehouses so students should keep book packaging so they can sell their books either on Half or to another store. When it is time to return books, Chegg not only rents books but gives the option to sell books to them and lists the price they are willing to pay for some, if not all, returned texts.
No matter which route students decide to take when buying, renting and selling textbooks, it is best to remember that shopping around will help achieve the most bang for your buck.
Story continues below advertisement