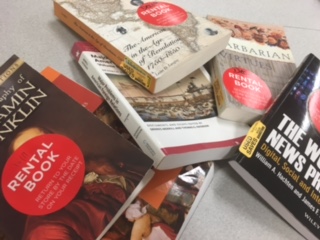 In response to the rising cost of student textbooks, Marquette University Student Government is working on a textbook exchange program for students that will likely debut later this semester.
MUSG is partnering with Texts.com to implement the program, which is free for students to use.
Texts.com "is a student-to-student marketplace wrapped inside a price comparison service," according to its website. It has partnered with hundreds of other colleges and universities across the country, including several in Wisconsin.
"Through this program, (the book) will go to another student and they'll be able to sell it for a little more," said MUSG executive vice president Adam Kouhel. "However, the buyer is still receiving the book at a low cost."
To use the program, Marquette students can sign up with their student email address, and will then have access to textbooks that others are selling on the site. If a textbook is not available, Texts.com "will curate a bunch of other websites that will have that textbook," Kouhel said.
When a student wants to buy a textbook from another student, they will inquire with the seller via email and set up a time and location for the transaction.
All transactions will occur face-to-face. There are several payment options, including cash, PayPal and Venmo. MUSG will put on its website a suggested list of locations for the in-person transactions, including the Marquette University Police Department offices on 16th Street and the MUSG offices on the first floor of the Alumni Memorial Union.
MUSG President Abraham Ortiz Tapia and Kouhel included this as part of their campaign in spring.
"We really saw the need for an alternative with textbooks because textbook costs, as well as access codes, are continuing to get higher and higher," Kouhel said. "We want to make sure that we are able to address the student concern of textbook cost."
MUSG will sponsor and run the program on its own.
"MUSG is in essence a student organization and its own kind of department on campus," Kouhel said. "We have the ability to be able to work on this program and be able to sponsor it directly through our organization."
MUSG is meeting later this month to discuss textbooks on campus with university administrators and Follett Corporation, which provides textbooks and other school supplies to BookMarq.
"We wanted to make sure we weren't necessarily competing with them, going against their work," Kouhel said. "We wanted to be able to provide options and opportunities for students to get the best textbook costs on campus."
Kouhel said the students he talked to about the program are excited about a new textbook option.
Eric Balle, a senior in the College of Health Sciences, shares the enthusiasm. "It seems like a good way to alleviate some of the high costs of an education," he said.
Kouhel is confident the program will work.
"I see this program as a great first step in ensuring that we have a great model for textbooks and for books on Marquette's campus," he said.
Kouhel is also optimistic "that once students start to log into the website and start to use the program, it will be self-sustainable."