Marquette women's tennis shuts out opponents
Hang on for a minute...we're trying to find some more stories you might like.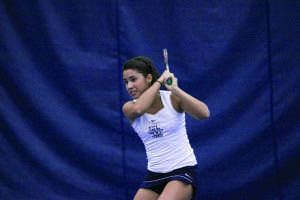 This weekend the women's tennis team produced shut out wins at home against Illinois State and IUPUI, going 2-0 for the weekend.
Marquette took on Illinois State first at Helfaer Tennis Stadium. The women showed their strength at doubles winning every single court. Ana Pimienta won in a third set super tie breaker (6-2, 2-6, 10-6) at No. 1 singles. Laia Hernandez Soler also won at fifth singles in a hard fought third set tie breaker (6-2, 5-7, 11-9). All other singles courts won in two easy sets and sophomore Erin Gebes won at No. 3 singles.
The next opponent the women faced that day was IUPUI. The team scored an even more decisive win, dropping only 14 games in both singles and doubles competition. Senior Rocio Diaz and partner Gebes earned an 8-1 win at first doubles, followed by second doubles team Pimienta and Aina Hernandez Soler's 8-3 win. During singles play, Marquette dominated IUPUI, giving up no more than three games per match. The women's next team match will be at Notre Dame Wednesday, March 26 at 3:30 p.m.
The men's tennis team travelled to Boise, Idaho on Friday for its weekend match play. The Golden Eagles started it off right by defeating Montana University 4-3. Dan Mamalat and Vukasin Teofanovic came up with an 8-7 win at first doubles to secure the doubles point after Nick Dykema and Cameron Tehrani won at No. 3 doubles. Mamalat (No. 1 singles), Teofanovic (No. 2 singles) and Dykema (No. 4 singles) won in singles competition to bring the win home for Marquette.
The rest of the weekend was shaky for the men as they fell to Boise State Saturday and Utah State Sunday. Boise State won the doubles point and No. 2, No.4, No. 5, and No. 6 singles. Mamalat at first singles and Logon Collins at third singles brought in Marquette's two points. The next day the men fell to Utah State 4-3. Teofanovic, Dykema and Kristiyan Trukov brought in the three points Marquette had for the day at second, fourth and sixth singles respectively. The men's next match is at home against Green Bay Friday, March 28 at 6 p.m.