Buzz Williams to become the new head coach at Virginia Tech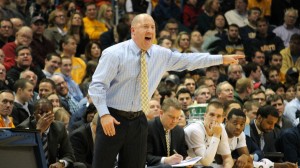 Buzz Williams has accepted the head coaching job at Virginia Tech University, Marquette athletics confirmed Friday. He met with Marquette players Friday evening to inform them of his decision.
"We sincerely appreciate the contributions Buzz has made to Marquette University, both on and off the court," Marquette interim athletic director Bill Cords said in an official statement. "During his six-year tenure, he helped elevate the program to one of the most successful in the BIG EAST Conference.  We wish him and his family nothing but the best in the future."
Williams, who took over for Tom Crean in 2008 after Crean left for Indiana, went 139-69 and 69-39 in the Big East in six years as Marquette's head coach. He made five NCAA Tournament runs and took the Golden Eagles to three Sweet Sixteen appearances, including the 2013 Elite Eight.
In the 2013-14 season, Marquette took a step back and missed the NCAA Tournament for the first time during Williams' tenure. The team even missed the NIT after going 17-15 and 9-9 in the Big East, including its third straight loss in the Big East Tournament quarterfinals.
"We have already begun a search for our next head coach," Cords said. "The dedicated commitment in support of, and investment in, its men's basketball program gives us a great foundation to be consistently successful and we look forward to finding the right person who will make us stronger in the future."
In a separate interview outside the Al McGuire Center, Cords said that he wasn't surprised Williams left, since "every year, you anticipate doing something like this."
Marquette's next task is hiring a head coach that can live up to the high standards set by Williams and Crean.
"I told the team we're going to go find the best coach that we can to help us get to where we want to go, and that's exactly what we're going to do," Cords said.