MU falls to Xavier in Big East Tournament quarterfinals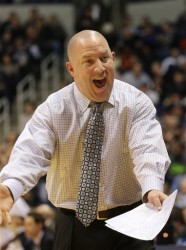 Marquette lost its third straight Big East Tournament game as third-seeded Xavier held onto a 68-65 quarterfinal victory at Madison Square Garden.
In a season full of last-second letdowns, it seemed only fitting that the Golden Eagles' NCAA hopes were totally extinguished in another close finish.
"I do think our guys have resolve and resilience," coach Buzz Williams said. "But we couldn't ever get a clean stop."
Todd Mayo did just about all he could to keep the Golden Ealges in contention late, scoring 19 of his 21 points in the second half.
But his final big shot, a 3-pointer from the right corner, barely hit rim and was rebounded by Xavier's Semaj Christon with 14 seconds remaining in the game.
After Christon missed his second of two free throws, Mayo's layup cut it to a two-point deficit with two seconds on the clock.
Matt Stainbrook was fouled on the inbound play with 0.9 seconds left, made his first free throw and missed his second. The rebound came to Deonte Burton whose full-court desperation heave didn't come within 10 feet of the rim.
The loss provided another chance for Burton to shine on the big stage and give Marquette fans hope for the future. The freshman came out of the gates hot with seven of the Golden Eagles' first 10 points and finished the first half with 16.
Burton's start helped Marquette to an early 13-5 lead, but too many Golden Eagle turnovers helped Xavier close the gap and head into halftime up 31-29.
Marquette retook the lead on a speedy transition dunk by Mayo with just over 10 minutes to play, but the 48-47 advantage would be Marquette's last, as the Musketeers stayed a step ahead the rest of the way.
Burton led all scorers with 23 points and Mayo was the only other Golden Eagle to score in double digits. Justin Martin led Xavier with 19 and Christon finished with 18.
Marquette seniors Jamil Wilson, Davante Gardner and Jake Thomas went a combined eight for 15 from the field to finish with just 19 points combined in a disappointing final Big East showing.
Williams said at halftime that the game would be decided in the paint, and the Golden Eagle defense couldn't stop Xavier's powerful frontcourt in the second half.
Though Marquette outscored the Musketeers 42-34 under the basket, Xavier had an answer for each of the Golden Eagles' late attempts to tie or retake the lead.
Derrick Wilson was fouled on a drive and fell hard on his left hip with 1:14 left in the game. He had to be helped off the court and missed the rest of the contest. Jamil Wilson replaced him at the free throw line and missed both crucial attempts.
Another one-and-done MSG trip left Williams' all-time Big East tourney record at 5-6, as his team failed to take advantage of a weaker field compared to years past.
The Musketeers advance to take on Creighton in Friday's semifinal contest, while Marquette is headed to the NIT should they accept an invitation.
It'll be a learning experience for Williams in more ways than one, as he provided a few last laughs in his postgame press conference.
"I hope that we go to the NIT and I mean that sincerely," Williams said. "I would like for us to keep playing, but as I just told our guys, in my career as a head coach I haven't been to the NIT. So does anybody know how that works? After Selection Sunday do they just call you and say "hey, do you want to play?"
The Golden Eagles will miss an NCAA berth for the first time since 2005 and end an impressive run of three consecutive Sweet Sixteen appearances.
Leave a Comment