Men's golf ties for 15th place in first Spring tournament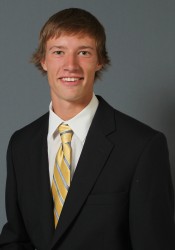 The Marquette golf team opened its spring season buried in an impressive field of competition at the USF Invitational.
The Golden Eagles finished in a tie for 15th place on a team leaderboard highlighted by No. 13 Florida State, No. 27 South Florida and No. 34 Mercer.
Coach Steve Bailey took a lot of positives from the three-day event in Florida, as it served as a solid barometer for his team's current standing.
"We put a lot of work (in) during the winter months, and it's always exciting to see how we come out of the gates," Bailey said. "We finished about 40 shots better than we did at this point last year, and it was our best ball striking performance of the year. We hit about 67 percent of our greens and 70 percent of our fairways."
For others, like sophomore Zach Gaugert, the tournament was a chance to "knock the rust off" and play in some favorable conditions.
"It will be good to get used to playing in the warmth," Gaugert said. "We don't have the luxury teams in the south have as far as good weather."
Marquette was led by sophomore Pat Sanchez's cumulative score of 215 including a four-under par second-round 68. In the third round, Sanchez started well with a remarkable 9-iron hole-out for eagle on the par 4 sixth hole from 145 yards away, but struggled on later holes to finish in 74.
"As the season goes on, I just have to work a little more on being comfortable when shooting low scores," Sanchez said. "That final round I was doing really well until the 12th or 13th hole and just lost focus and hit a few bad shots. I put a little pressure on myself, and just need to be more comfortable when I'm doing well."
Bailey was impressed with Sanchez's showing as well as junior Brandon Cloete's first-round one-under 71 and redshirt sophomore CJ Swift's third-round even-par 72.  Gaugert started off with a 76 in the first round, but finished strong with a 74 in the second and 72 in the third.
"Pat was our most impressive (golfer) by far this week," Bailey said. "He's always known as a scrappy player, though not as good of a ball striker but even that's improved. His putting has gone to another level. One day he had 25 putts and that's excellent PGA tour stuff there."
While Marquette looked overmatched by the talented field, Bailey supports improving his team's tournament competition as it plays into succeeding in the Big East Tournament.
"We gave ourselves a lot of good chances and didn't convert on as many as we needed to," Bailey said. "Our ultimate goal is to be ready for the postseason, it's been our focus. We just need to stick to our game plan and take the positives from each tournament. It's nice to get one under our belt."
The field will be even tougher in next weekend's National Invitational Tournament in Tucson, Ariz., but Bailey said he looks forward to watching his team improve under fire.
Leave a Comment