Golfers battle on home course for Wisconsin Amateur Championship
Rising seniors Sanchez and Gaugert had top-5 finishes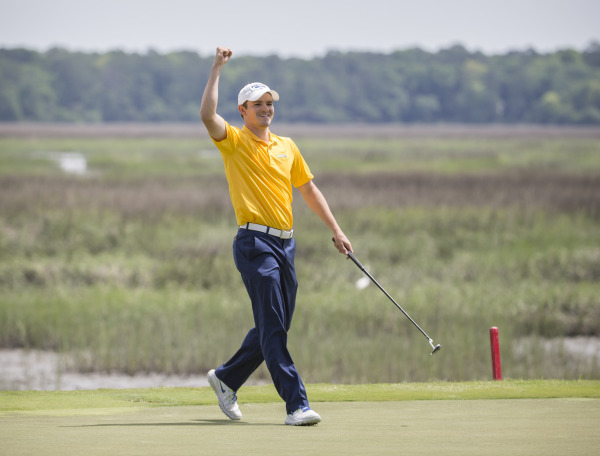 While most collegiate athletes have the summer off from competition to train and practice, the summer season is in full swing for Marquette's golfers, who were in action this week at the Wisconsin State Amateur Championship.
Rising senior Zach Gaugert entered the final round with a 2-stroke lead, but shot a 6-over-par 78 on Thursday to finish tied for fifth. Teammate and fellow rising senior Patrick Sanchez shot even par in rounds 3 and 4 to finish at 6-over-par and finish tied for second in the tournament.
Sanchez's finish was a vast improvement from his 2014 Amateur Championship performance, in which tied for 47th with a 27-over-par. The BIG EAST Player of the Year is coming off a second-place finish at the BIG EAST Championship and an NCAA Regional Round appearance.
Mathew Bachman, a rising senior at Sheboygan Falls High School and verbal commit to Marquette also impressed, and finished tied for second with Sanchez. Bachman shot a 2-under 70 in the final round, including birdies on Nos. 14, 15 and 17.
University of Wisconsin incoming freshman Eddie Wajda won the championship at 5-over-par.
The 114th Amateur Championship was held at Erin Hills Golf Course in Erin, Marquette's home course and site of the 2017 U.S. Open Championship. The players were not affiliated with Marquette and represented their home golf clubs, though many of the players were wearing blue and gold on Thursday.
Rising senior Nick Nelson finished tied for 12th, incoming freshman Charlie Maleki finished tied for 20th and rising junior Henry Klongland ended the tournament tied for 25th.
Sanchez will next play the 2015 Western Amateur from  August 3 through 8 in Sugar Grove, Ill., according to Marquette Athletics. Gaugert will play in the 2015 U.S. Amateur Open from August 17 through 23 at Olympia Fields Country Club in Olympia Fields, Ill., which will be broadcast on FOX and FOX Sports 1.
The Golden Eagles will return to Erin Hills October 4 through 6 when they host the Erin Hills Intercollegiate.