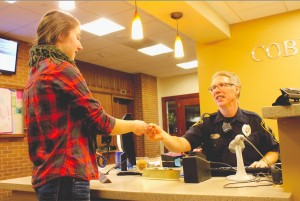 A bill being considered in the Wisconsin state legislature could give Marquette's Department of Public Safety police and arrest powers.
The bill, introduced Feb. 17, would allow the university to enter into an agreement with the state and the city of Milwaukee to establish a university police department and employ university police officers.
The measure was introduced by Republican state senators Leah Vukmir, Paul Farrow, Glenn Grothman and Alberta Darling, and Democrats Lena Taylor and Nikiya Harris.
If the bill passes and the university agrees to take on a police force, Marquette officers would have the same powers as Milwaukee law enforcement officials to "maintain order, detect and prevent crime, enforce laws and ordinances and make arrests for violations of laws and ordinances."
Andy Brodzeller, associate director of university communication, said in an email that although the bill is an important step, more needs to be done if it passes.
"Assuming the bill becomes law, additional steps remain before the university would decide to operate DPS as a police department," Brodzeller said, "including opportunities to engage with the broader Marquette community and neighborhood stakeholders and after details are determined with local law enforcement."
Brodzeller added that 21 other states allow private universities to operate a police department, such as Notre Dame, Georgetown, Boston College, Loyola Chicago and Yale.
The bill, 2013 Senate Bill 610, was drafted after a governor's task force on campus safety commissioned in 2007 recommended the Wisconsin legislature allow private colleges and universities to operate a police department, which is an option only available to four-year UW system schools.
DPS was licensed as a private detective agency in 2001, which allowed officers to carry firearms. Brodzeller added he thinks operating DPS as a police department would allow for more effective and efficient use of university and Milwaukee Police Department resources.
If the bill passes, DPS officers will have to go through more extensive training, similar to that of a police academy.
Following the governor's task force, a Marquette internal task force met in the summer of 2013 to review the idea of a university police department. The task force was co-chaired by L. Christopher Miller, the vice president for student affairs, and Janine Kim, associate professor of law. The group included faculty, staff and student representatives.
Jilly Gokalgandhi, a senior in the College of Arts & Sciences and member of the internal task force, said her role on the task force was to provide the pros and cons of having a police force from a student viewpoint.
"I think the impact will be a more effective use of our tuition dollars to use the resources on campus to their advantage," she said in an email.
Gokalgandhi also noted the conversation is ongoing.
"No decisions have been made," she said. "I hope that we, as a student body, realize that commissioning DPS would be a step in the right direction."
Brodzeller said Interim University President the Rev. Robert A. Wild stressed in a memo earlier this month the university would follow the recommendation of the task force, including "providing opportunities for Marquette community engagement on what commissioning would mean and how it would be implemented."
Lt. Paul Mascari, a member of DPS who was integral in shaping the bill, said DPS' mission does not change with the outcome of this bill.
"Our mission as public safety is not going to change, whether we're a police department or licensed as a private detective agency," Mascari said. "The collaboration we have on campus, in the community, the care that we show for the students, that's something that's going to remain the same, no matter what the patch says."
DPS is made up of more than 80 professional and 100 student staff members who provide patrol services, preventive services and victim and witness services.
Mascari added that if the bill were to pass, conversations still have to happen between the university, DPS and MPD as to exactly what the jurisdiction of the new police force would be, and when DPS officers would refer incidents to MPD and the attorney general's office.
As far back as 2008, criminology professor Richard Zevitz, who previously worked for 10 years as a division director in the sheriff's department in San Francisco, advocated for DPS to be its own police force. In a March 2013 letter written to the Tribune, Zevitz wrote "The commissioning of Marquette's police force would in no way relieve the Milwaukee Police Department or the Milwaukee County Sheriff's Office of responsibility for law enforcement on and around our campus. Instead, it opens the door for an enhanced level of service, continued professional cooperation and shared responsibility for the protection and well-being of all concerned."
Zevitz is on administrative leave for the spring semester and was unable to comment.
Mascari shared a similar view, though, as he said if the bill passes, DPS would still maintain its relationship with MPD.
"Our intent is to enhance our current excellent relationship that we have with the Milwaukee Police Department," Mascari said. "It would be a partnership with them if we decided to go down that road to becoming a commissioned police department, so we're really just looking at increased efficiency."