The Milwaukee County Zoo will host its first Zumba Fitness Party Saturday from 6-8 p.m. The zoo may have a lot to offer their guests during the day, but for $15, visitors can gain admittance to one of the zoo's more original after-hours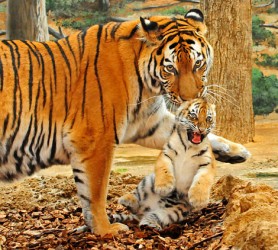 events. All proceeds will go to the Zoological Society's Sponsor an Animal program benefitting the zoo's animals.
According to Becky Lusp, the sponsor animal marketing assistant, the inspiration behind the Zumba Fitness Party is multifaceted.
"We basically were looking for an event to benefit the animals at the Milwaukee County Zoo," Lusp said. "A couple of my coworkers and I took Zumba classes, and we know that there are Zumba zoos out there, so we started to make this an event for the zoo."
Zumba Jammer Rachel Beimel and other Zumba instructors from the area will lead the group in popular cardio dance routines to turn up the heat as if they were dancing in the warmth of an exotic jungle instead of the cold Midwest winter. In addition to Zumba dancing, attendees will be able to purchase Zumba apparel provided at the event.
The dance party will take place at the Zoo's Peck Welcome Center. All participants 14 and older are welcome to bust a move, show off their skills and dance the night away.
For those who have never done Zumba before, no worries; experience is not necessary. Lusp encourages male and female participants to attend the event regardless of their previous knowledge of Zumba. Participants are welcome to dance and take breaks as often as they please.
"Anyone can do it," Lusp said. "Go your own pace."
Lusp said she hopes the Zumba Fitness Party will have a big turnout so the event can become an annual tradition at the zoo. She looks forward to dancing and creating a fun-filled environment for Zumba and animal lovers alike.
"For us, (the best part of the event is) to have a big ole dance party here at the zoo," Lusp said. "It's going to be very exciting, very high energy. It's just going to be a great time."
Party animals wanting to register for Zumba at the zoo can sign up online or call (414) 258-2333. Walk-in registration is available, but priority will be given to participants who pre-register if spaces become limited. Registration ends Feb. 20.
Get ready to let loose, take a break from the books and get your jungle boogie on.
Story continues below advertisement