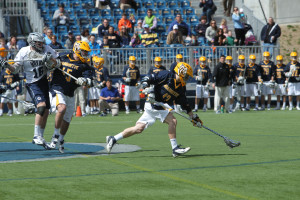 With the Golden Eagles ahead 11-7 in the final minute, "We are Marquette" cheers and heavy snowfall fell over the stadium. Despite two late Hofstra goals, the men's lacrosse team rushed the field to celebrate its first win of the season.
In 2011, then Hofstra coach Joe Amplo and three players transferred to Marquette to begin the program. Saturday's return to Hofstra brought seven Marquette players home to the Long Island area, and an opportunity for their families and friends to cheer on the team.
"It was an unbelievable experience," said Bryan Badolato, a Long Island native and redshirt senior attackman. "Honestly I never thought in my career I would beat Hofstra at Hofstra. As a kid growing up going to Hofstra games and being able to compete with a team like that is just an incredible experience."
The support boosted Marquette to an early lead behind sophomore midfielder Ryan McNamara's first collegiate goal. McNamara added another goal and an assist for three points on the day.
That lead crumbled as Hofstra knotted the game at two and then again at three, but redshirt senior attackman Tyler Melnyk scored the final two goals of the second quarter to give Marquette a 5-3 advantage at the break.
In the second half, Marquette again came out hot, controlling possession and threatening while shooting. Hofstra appeared to gain momentum, but the Golden Eagle defense held its own with stellar performances from the defensive midfielders and senior goaltender JJ Sagl, who Amplo said had one his best games ever.
On the other end, six Marquette players scored, most notably Melnyk and redshirt sophomore midfielder Kyle Whitlow, who both tallied hat tricks. Melnyk also added an assist to lead all scorers with four points.
"I'm just so proud of our guys and our staff for just working on and improving all last week and doing the best we can and just playing to win on Saturday," Amplo said. "It felt like winning was so important to our group and our staff on Saturday and that was the difference. They did what was necessary during the week and validated it on Saturday."
Marquette dominated the first half in the exact opposite fashion than the season opener against Lehigh last week. After working on face-offs and ground balls during practice this week, the team won the ground ball battle 36-28. Redshirt senior faceoff specialist Cullen Cassidy went 12-24, a big step up from his 4-15 performance against Lehigh.
Cassidy's performance and the ground balls earned the team more offensive possessions and allowed them to control the game between the lines.
"Last week against Lehigh, we didn't do very well with ground balls at all and that was the vocal point of this weeks practice," redshirt sophomore defender B.J. Grill said. "We went 50 percent at the faceoff x, which was huge improvement from the Lehigh game and our defense really stepped up. They gave our offense the opportunity to win us the game."
Despite travel issues on its return flight, the team received some good news Monday morning. Marquette received votes in the Warrior Media Poll for the first time ever. In addition, Melnyk and redshirt sophomore defender Liam Byrnes, who scooped up five ground balls and forced four turnovers, earned spots on the Big East honor roll for their play.
With spirits high, the team continues its seven game road trip against No. 9 Ohio State Saturday at 11 a.m. The two teams faced off last season in Marquette's first game in Division I.