Blueprint of a program
How Marquette brought in Joe Amplo and set the framework for a quick rise to success
May 5, 2016
Six years ago, lacrosse players in Wisconsin were few and far between, especially on Marquette's campus. Yet, a group of plucky underdogs who came to the campus on a whim, buying into Marquette's plan, are on the cusp of a tournament berth.
The athletic department started talking about adding a new sport in the summer of 2010. The focus was on finding a sport that the student body could support and the school would be able to recruit kids to play.
"We hadn't changed our sport offerings in a while," said Mike Broeker, Marquette's deputy athletic director. "We were trying to be pretty forward-looking, not relative to conference affiliations or things like that. As leadership, you always have an eye towards the horizon."
The department gravitated toward the spring, since Marquette lacked a true spectator spring sport. Golf competed exclusively on the road until recent years, track and field only has one home event and tennis' facility has limited seating.
Lacrosse seemed like the perfect fit, offering a chance to build community after the basketball season ended and a recruitment tool in the Northeast, an area that was reignited when Marquette joined the BIG EAST Conference.
Broeker had the greatest background in the sport, as he went to school at Siena College, which has a lacrosse program and is right in one of the nation's lacrosse hotbeds: Syracuse, New York.
"I reinforced the data that we had," Broeker said. "I could at least bring some context, some qualitative to the quantitative that we have about youth participation."
By September of that year, the addition of men's and women's lacrosse was approved by the Board of Trustees. Then, it was time to start building.
"We immediately thought, 'OK, we need to get coaches,'" Broeker said. "Coaches were the key. That was not going to be an easy task, but there was great excitement in the community that we were going to take this on."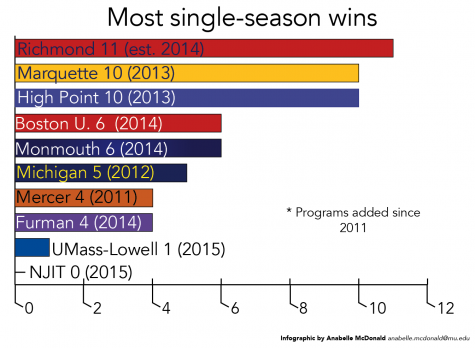 Marquette started the process by bringing in Dave Cottle as the school's resident lacrosse consultant. Cottle has nearly 30 years of Division I lacrosse head coaching experience with teams at the highest level. He coached at Loyola (MD) from 1983 to 2001 and Maryland from 2002 to 2010. He joined Marquette's search a few months before he was named the head coach of Major League Lacrosse's Chesapeake Bayhawks, a job he held until moving into their front office this year.
Cottle's reputation in the lacrosse community helped put Marquette on the map. Danielle Josetti, Marquette's associate athletic director, said he instantly boosted the level of coaches that were interested.
"It was a great decision," Josetti said. "I think it gave us credibility that we wouldn't have had otherwise. It let the candidates know that we were serious about adding lacrosse and adding it to be competitive, not to just to participate."
Broeker, Josetti and Cottle all flew to Baltimore in January 2011 to conduct the coaching interviews since it was a central spot for the coaches. They interviewed 11 coaches, each for an hour and a half.
After a long day of interviews, it came down to two coaches — Hofstra assistant Joe Amplo and Denver assistant Matt Brown.
Amplo, a former defenseman at Hofstra, was in his 11th season on his alma mater's coaching staff. He joined John Danowski's staff after graduation in 1999 as a graduate assistant. A year later he took an assistant coaching job at Penn, but returned to Hofstra a year later to take an assistant position.
"I saw the release actually on Inside Lacrosse in mid-December in 2010," Amplo said. "It was at a time of year where there wasn't much going on. It was the end of the semester at Hofstra. I was winding down, getting ready for the holidays. I didn't give it much thought … and then there was an announcement that Dave Cottle was going to lead the search. I thought to myself, 'It would be nice to have a phone call from him and have someone show interest.' About four hours later, he called."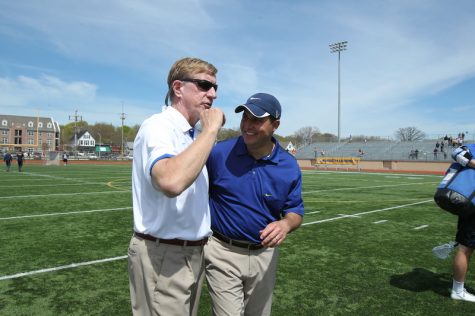 Seth Tierney, who took over as Hofstra's head coach when Danowski left for Duke in 2007, expected Amplo would land a head coaching position. Amplo had interviewed for a few other jobs, including Drexel, and had come up just short.
"At that point in time, we were just coming off four (years) in a row of getting to the NCAA Tournament and won a CAA Championship," Tierney said. "Joe was a guy who was being talked about."
Amplo wasn't at the top of Marquette's list atthe start of the process, since the athletic department decided it wanted an offensive-minded coach. He made his mark in the interview, showing off his charisma and sincerity. Despite being the first interview of the day, he left an impact.
"I remember at the end of the day when we were done with all of the interviews … and Mike said, 'What do you think?' and I said, 'Amplo,' Josetti said. "He took off his watch and said, 'Me too.'"
Marquette had to sell the program and explain the ideals that Marquette stands behind. Amplo could tell early on that the school was a good fit for his personality.
"When I sat in that interview I got the sense that it was a place that I wanted to be," Amplo said.
Marquette set its sights on Amplo, inviting him and his wife to campus the next week. Josetti said it felt less like an interview and more like a recruiting visit. Amplo, who had spent nearly his entire life on Long Island, still needed some convincing to move his family halfway across the country.
"I needed this place to be a place where my wife can commit to allowing me to work the hours that I work," Amplo said. "When (Marquette) said they were interested in moving this along, it was about my wife and I making the decision to move our family to a place that we fell in love with."
Amplo got a firsthand look at the peak of Marquette athletics on his trip. Josetti picked him and his wife up from the airport in Chicago to take them to National Marquette Day against Syracuse, one of the most memorable games in recent Marquette basketball history.
"I can remember Jae Crowder and Jimmy Butler running around on that gym and saying, 'Oh, this would be pretty cool to be a part of,'" Amplo said.
Amplo was sold, and so was Marquette. He was introduced alongside women's head coach Meredith Black February 27, 2011.
"I have dreamed about the opportunity to lead a Division I lacrosse program and after better understanding, and seeing first-hand, Marquette's commitment to lacrosse, I realized quickly this was the perfect opportunity to pursue," Amplo said when named head coach.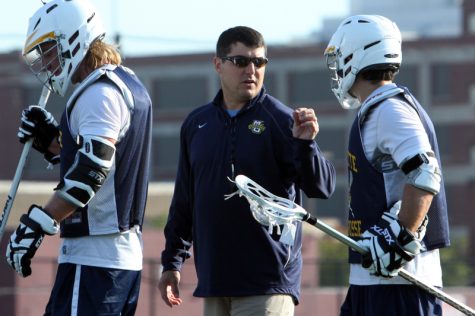 There are many ways to start a lacrosse program. You can promote your club team to the Division I level, like Michigan did. You can jump right into play, like NJIT. Marquette decided to take things slow, starting from scratch and redshirting all the players the first season to practice on campus for a year before playing a single game. It certainly wasn't glamorous.
"We didn't even have an office," Amplo said. "We had no pens, we had no lacrosse balls. My first day on the job, myself, Steve Brundage and John Orsen went to Target and bought laundry detergent because we had to wash the clothes. To me, looking back, that is the most fun I've ever had as a coach, just figuring out what to do."
Amplo said it was tough to recruit for a program that had never played a game, especially since the team wouldn't compete for another year.
"You find the kids that can catch the ball and throw the ball to guys that have the same jersey as they're wearing," Amplo said. "It was as simple as that. It was, 'OK, do you have a pulse and carry the lacrosse stick in the right way?"
Just four years later, Marquette has become a household name in lacrosse. After two seasons of growing pains, Marquette burst onto the scene in 2013. The Golden Eagles set a new mark of 10 wins, moving up as high as ninth in the Top 20 poll and earning wins over three Top 20 opponents — Lehigh, Hofstra and Ohio State. Amplo was named the BIG EAST Coach of the Year.
The team has played for the BIG EAST regular season championship the past two years, earning the second seed both times in a highly competitive lacrosse conference.
This year three Marquette players were selected to play professionally in the Major League Lacrosse Draft — Liam Byrnes, Jake Richard and B.J. Grill. Byrnes and Grill were both in the group that arrived at the very start of the program.
Marquette was able to perfectly construct a program that could compete quickly. The department made sure the team had a competitive budget, including plenty of scholarships to attract talent. The year of practice helped set the hardworking tone that Amplo hoped for and helped form a few of those recruits with chips on their shoulders into diamonds in the rough.
"The success of this program is from the administration down," Cottle said. "They were a team, and they worked together. When you find a group of people that work together like that for a common goal, great things happen. Marquette wanted to be good, and they were willing to do the things to be good."
This weekend, Marquette has an opportunity to put the cherry on top of its script by earning the program's first NCAA Tournament bid with some of the pieces that have been on campus from day one. The Golden Eagles have five players who have been involved in every Marquette lacrosse activity and 19 seniors who have been on the team for every game.
"I always joke with Joe and say, 'If we make the tournament, I can't wait to see who plays me in the movie,'" Josetti said.