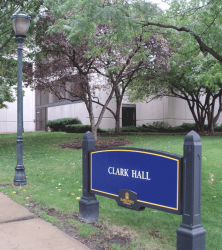 The College of Nursing was recognized last week for its work with the Children's Hospital of Wisconsin to bring health care to low-income Milwaukee residents.
The college, which partners with the hospital through two nurse-managed community clinics in the city, won the Milwaukee Business Journal's Central City Business Award Feb. 3. The award recognizes "entrepreneurs and commercial enterprises whose contributions toward growth, expansion and prosperity are making a difference in Milwaukee's central city and others across the region," according to the Business Journal's website.
Margaret Callahan, interim provost and dean of the College of Nursing, said the partnership is aimed at bringing primary health care to the "vulnerable patient populations," such as those living under the poverty line.
"One of the City of Milwaukee's most critical health care issues is the disparity between neighborhoods and socioeconomic classes when it comes to access to health care," Callahan said in an email. "This unique model delivers what patients in the Lindsay Heights and Amani neighborhoods said they wanted:  access to high-quality health care for their families."
The two community clinics opened at the Northside YMCA and COA Youth & Family Centers Goldin Center in fall 2013. The clinics, which are both located on W. North Avenue, are staffed by Marquette graduate and undergraduate nursing students and are the first clinics in the Children's Hospital system to be nurse-managed. This is an aspect about which Callahan said she is "personally very excited."
"Besides bringing health care to vulnerable populations in Milwaukee, these new clinics also give our undergraduate and graduate nursing students the opportunity to participate in community-based education as men and women nurses in service to others – the hallmark of a Marquette nurse," she said.
Patricia Gernady, a sophomore in the College of Nursing, said she looks forward to working in one of the new clinics.
"It's really cool that Marquette is being honored for their service," she said, "And it's great that we have the opportunity to work at these clinics. It's a perfect learning opportunity."
Callahan said the College of Nursing "enjoyed a long-standing relationship with the Children's Hospital of Wisconsin," and that this project is mutually beneficial for both organizations.
"The opportunity to partner with the No. 4 children's hospital in the nation to create two nurse-managed clinics in areas of Milwaukee with few primary health care options was a way to live out both organizations' missions to strengthen Milwaukee's inner-city neighborhoods," Callahan said.
In the future, Callahan said she hopes to have undergraduate and graduate nursing students work side-by-side with the staff at the two new centers to provide health education programming. These programs would include health care fairs, flu clinics and blood pressure screenings.