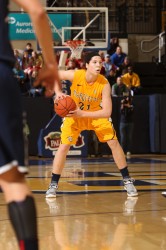 Wednesday night's back-and-forth matchup between the Marquette Golden Eagles and the Seton Hall Pirates fittingly came down to the final possession. Marquette controlled the second half and led Seton Hall 60-52 with 2:39 left, but the Pirates used those final minutes to stage a furious rally that came up just short.
Seton Hall's Teresa Kucera drilled a three to cut the lead to five. A turnover by Brooklyn Pumroy generated a quick two points in transition and suddenly the score was 60-57. Apiew Ojulu answered with a lay-up to get the lead back to five, but Seton Hall's Ka-Deidre Simmons converted a three point play to cut the lead to 62-60.
After a missed shot by Katherine Plouffe and a turnover by the Pirates, Marquette had the ball with just more than 30 seconds left. The Golden Eagles bled the shot clock, but Ojulu was stripped in the paint. Seton Hall's Sidney Cook grabbed the ball with four seconds left, but dribbled the ball off of her foot as time expired to preserve Marquette's third-straight victory at home.
"We came out with a victory, but I wouldn't say anyone in the locker room is overjoyed," coach Terri Mitchell said. "We know we need to get better and this is an opportunity for us to look at it and get better for the next day."
Marquette's production was spread across the roster, but the unsung performances came from sophomore Lauren Tibbs and freshman Ashley Santos, who put up 10 and seven points, respectively.
"Lauren Tibbs has been doing so much extra work that people don't see behind the scenes," Mitchell said. "If anything I don't think we look for her enough."
Plouffe led the team with 14 points, but credited the younger players for their efficient play in extended minutes.
"I think they did a good job in our offense of wanting the ball," Plouffe said. "Especially Lauren, she was really posting hard and she was getting people down low and sealing them. That's what we need her to do and she did really well with that tonight."
The two teams went into the locker room tied at 28 after an even first half that included five lead changes. Thanks to a 2-for-11 performance from the floor, Marquette dug itself into an early hole and trailed the Pirates by as many as 12 points in the first nine minutes of the game.
Marquette fought back from their scoring drought, going on a 22-10 run to finish the half. The Golden Eagles didn't help themselves with 12 giveaways that led to 12 Seton Hall points in the half.
"Give our team credit for going down in the first half and the tenacity we had to come back and go into the locker room tied at half," Mitchell said. "We were not shooting the ball well, so we had to rely on the staples of rebounding and defense."
The turnover bug bit the Golden Eagles again Wednesday. Marquette turned the ball over 25 times and allowed 24 points off of those miscues.
"It was carelessness," Plouffe said. "Their defense played big, but it was definitely our unforced errors that got us in trouble."
The Golden Eagles started and finished the game poorly, but Mitchell said she was proud with her team's heart.
"We didn't start well, we recovered well, but the real mark of a team's growth is how you start a second half," Mitchell said. "I thought we started extremely well, but unfortunately we dipped back down."
Marquette moves to 6-4 in the Big East and has a chance to pick up another victory at the Al McGuire Center Saturday against Butler.
Story continues below advertisement