Marquette lands on national drug arrest rankings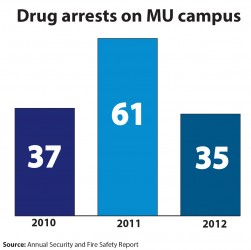 Following two weeks of an abnormally high number of drug violations on campus, Marquette is making national news for another unsavory reason.
A study released by Rehabs.com ranked the top 50 colleges in terms of drug and alcohol arrests per 1,000 students using 2011 data. Five of the top 20 schools, in a combination of drug and alcohol arrests are in the University of Wisconsin system, including the top three rankings. Marquette comes in at number 46 on the list of top 50 for drug arrests.
Arrests are defined in the study as any drug- or alcohol-related arrest, citation or summons that takes place in "any building or (on any) property owned or controlled by an institution within the same reasonably contiguous geographic area," including residence halls.
Russell Shaw, the interim director for the Department of Public Safety, said he thinks two factors can explain why Marquette makes the list.
"It's twofold, some people can think that we have all these kids that do drugs on this campus," Shaw said. "I don't have all those numbers, but in all my years working here, kids certainly experiment (with drugs.) On the second hand, do I think our staff at Marquette is good? Yes. I think that other universities are much more lax with their policies."
Shaw added that he thinks other universities' safety departments are not as thorough as DPS.
"(Drugs) are always a concern," Shaw said. "I worry just as much that a student is going to get so intoxicated that they pass out on the street, and that happens every weekend."
The list only includes colleges with more than 5,000 enrolled students. No other Jesuit schools were on the list.
The study separates drug and alcohol arrests into their own categories, but the UW-system schools show up in the top 50 in both categories.
The University of Wisconsin-Milwaukee comes up on the drug arrest list at number 30 and number 41 on the alcohol arrest list. The University of Wisconsin-Madison does not show up on the list for drug arrests, but checks in at number 23 for alcohol arrests.
In the study, researchers wanted to determine if these high arrest rates were common state-wide, so they also provided an overall list of arrests by state. A final map shows a comparison between statewide illicit drug use and college campus drug arrests. This shows the per capita rate of on-campus college drug arrests for each state, with Wisconsin being ranked 10th.
Wisconsin also ranks second, behind Wyoming, for binge drinking per 1,000 students on college campuses.
The study also talks about the correlation between binge drinking and the likelihood that someone who binge drinks also participates in taking prescription drugs that are not prescribed.
In a study by the National Center on Addiction and Substance Abuse, about 23 percent of college students met the medical criteria for substance abuse or dependence. That rate is almost triple the that of the general population.
The most popular prescription drug college students use, according to the study, is Adderall. Adderall is a drug prescribed for people who have ADHD or trouble concentrating. College students, however, typically use it to get through projects and papers with increased focus.
According to the study, Adderall is often referred to as "the study drug" because of how many students use it as a study aid without a legitimate prescription.
The researchers used a Google corollary search to show the correlation between searches for Adderall and Adderall use, and found that these terms spiked during the typical periods for final exams, in May and December.
The spike in search terms could be attributed to concerned parents' research of their students' activities. "I used Google Correlate again, but this time I inputted search terms that are much, much more likely to come from students on the brink of using Adderall to study harder," Jon Millward, head of research for the project, said.
The statistics for the study come from the United States Office of Postsecondary Education which "maintains a Campus Safety and Security Statistics database to which crime statistics are submitted annually via web-based data collection by all postsecondary institutions that receive Title IV funding."
The data is from 2011, which is the most recent put out by the OPE, with 2012's data reportedly coming soon.
The researchers said in the foreword to the study "if a college records an alcohol or drug incident either on or off its campus, it will end up recorded in the database, alongside all other incidents from all of the other colleges across the country."
As far as drug use at Marquette, Shaw said since the spring semester started he saw an uptick in drug violations in the first couple of weeks, but it has since died down.
Two weeks ago, five students were brought to the hospital after reportedly ingesting an unspecified, illegal narcotic in McCormick Hall. One other student was taken into custody by the Milwaukee Police Department following the incident as well for distributing the drugs.
Sheila Stanelle, senior executive assistant to Milwaukee County District Attorney John Chisholm, said in an email that the cases are still pending due to further investigation and testing and "it will be some time before a charging determination is made."
Brian Dorrington, senior director for university communication, said in an email the individual taken into custody by the Milwaukee Police Department is not enrolled at Marquette, and the details of any specific incidents or violations will not be released due to student privacy laws.
In the past month, every residence hall except Mashuda and McCabe halls reported a drug violation totally nine offenses.
"Since so many people have been caught since school has started (the spike in arrests) might be slowing (drug use) down," Shaw said. "We've gotten back to more normal incidents, more medical and alcohol related."
Shaw added that most of the incidents since the semester started were marijuana related.
"You can look at this in two ways, is there a big increase in drug use on campus since the start of the semester, or is it because the weather since we've been back has been extremely cold where students aren't leaving the residence halls?" Shaw said. "It's certainly a problem either way."
There is no uniform data to suggest drug arrests go up or down based on what month because drug arrest data is released on a yearly basis, at least for the state of Wisconsin and the DPS. Individual DPS reports, though, are released through the department's daily log.
Drug violations occur more frequently in the residence halls than not, as there have not been any reported drug violations under the heading "off campus" for any daily logs so far since the calendar year started in January.
Leave a Comment