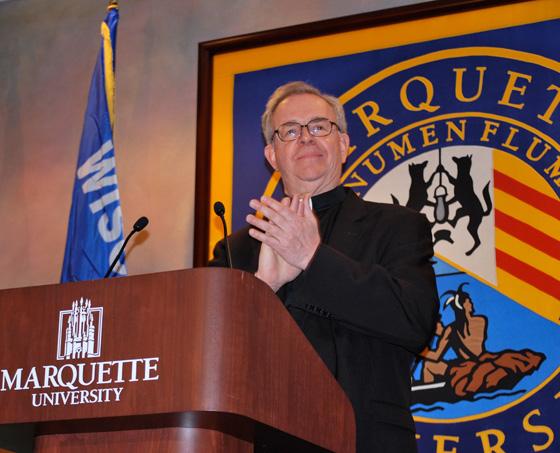 Marquette's Board of Trustees took the next step in the search for Marquette's 24th president by announcing the members of the presidential search committee Oct. 3. In the coming months, this committee will conduct student forums, decide critical attributes for the president and select candidates to present to the Board of Trustees.
Margaret Callahan, interim provost and dean of the College of Nursing, said she believes these individual voices will help select the best president to lead Marquette.
"(The committee) comprises individuals who have considerable expertise in higher education, business and leadership, and I believe all of the members bring skills that will greatly enhance the selection of our new president," Callahan said. "I am particularly pleased that for the first time in Marquette's history, the search will include a dean and a faculty representative."
William Cullinan, dean of the College of Health Sciences, and Patricia Cervenka, director of the Law Library and professor of law, are the first faculty members to sit on the presidential search committee in Marquette's history.
"These academic voices, coupled with the strong academic roots of committee members Dr. Janis Orlowski, Dr. Arnold Mitchem and Father O'Keefe, will help ensure our next president continues Marquette's tradition of academic excellence," Callahan said.
Two weeks ago, the Board chose John Ferraro, vice chair of the Board of Trustees and global chief operating officer at Ernst & Young, to lead the presidential search committee.
"The opportunity to help choose Marquette's 24th president is a historic and exciting honor," Ferraro said. "We are committed to ensuring this search process is inclusive and representative of the perspectives of our faculty, staff, students and alumni, which will ensure we choose the best candidate to lead Marquette forward."
Similar to previous years, the search committee will gather feedback from the entire Marquette community during the coming months to determine the leadership attribute of the next president.
"I think everyone can agree that we are looking for a president that will provide a strong vision of Marquette for the years to come, and one who can bring the right people to the table to make sure our mission continues to be a differentiator for Marquette among our higher education peers," Callahan said.
The other members of the search committee include Trustees: Patrick Lawton,  Arnold Mitchem, the Rev. Joseph O'Keefe, Janis Orlowski and Owen Sullivan.
A permanent president is expected to be in place for the 2014-15 academic year. The Rev. Robert A. Wild, will lead the university as interim president until August 2014, the university announced two weeks ago.