EDITORIAL: Year in review: Reflecting on crucial campus issues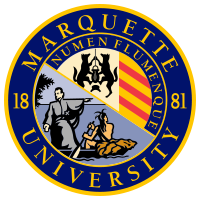 In our first issue of this academic year, we voiced concern about the newly instituted alcohol fines that were creating a buzz around campus at the time. We outlined our disappointment at the ambiguity and design of the policy, and we sought to be Marquette students' voice on the subject.

Throughout the year, we've tried to not only represent student opinion but to present clear arguments for issues we believe students should care about.
In our final week of print before turning the page to the summer, we would like to emphasize once more some of the issues we have determined to be most important this year and to focus on the principles behind these issues moving forward.
Alcohol
The changes in the alcohol policy started the year off on a loud note. The lack of transparency around the alcohol fines still exists, as it has been 156 days since we requested information from Dean of Students Stephanie Quade. We requested the number of alcohol fines and the total revenue from the fines. After all, if students are going to be coughing up money for every violation, they deserve to know where said money is going.
Of course some of the information, like names and details of the situations, should be kept private, but making known the amount of money the administration has collected is vital to improve transparency. If the revenue goes to alcohol prevention and alternative events that students enjoy, the administration should not have a problem revealing the numbers, and many students would be pleased with how it is being spent.
If Marquette was a public university, the Tribune could file an open records request under the Freedom of Information Act to obtain this information, and the university would have no choice but to report the numbers. While acting in its full right, the administration is taking explicit advantage of its status as a private university and deliberately choosing to keep its students in the dark.
At an MUSG meeting in November, Vice President of Student Affairs Chris Miller described student input as "invaluable." Miller and Director of Student Health Service Carolyn Smith had only contacted approximately a dozen students for about a month when deciding whether to implement a university-wide healthcare mandate. They said they had discussed the issue with administrators, however, for nearly five years.
If the administration wants Marquette students to trust that its statements lauding the value of transparency and student input are not simply phony press releases, it needs to demonstrate that accordingly.
MUSG
After a tumultuous election season, we look forward to seeing what the new administration and senate accomplish during their time in office. We hope our student representatives will spend their time developing legislation based on authentic student concerns, not suggestions from administrators. The purpose of student government is to act as a student's voice and a link to the administration. Seeking out student input should be each branch of MUSG's highest priority. One piece of legislation we hope to see passed is the long-debated Good Samaritan Policy, which would allow students to seek help from DPS for intoxicated students, such as requesting medical attention for possible alcohol poisoning, without fear of risking getting themselves in trouble for drinking.
Educational Value
We have sought this year to advocate for the inherent value of education and have voiced concerns about education becoming commodified and viewed merely as a job-marketing tool. We hope the administration, professors and students alike will continue to value education for its role in personal growth and development. Finding a job or internship has its place in college and is key to advancing in a career, but such a goal cannot replace the enrichment and intellectual stimulation that come from thought-provoking professors and classmates and challenging curriculum.
We were impressed with the hiring of Richard Holz as the new dean for the College of Arts & Sciences, a position which was vacant for five years. We believe Holz will value holistic learning and focus on student needs. In our February 21 editorial following his selection, we said, "In his meetings with students on campus prior to his selection as dean, he said a liberal arts education is intrinsically valuable and provides students with the ability to think critically and to envision a variety of future possibilities for life after college." We'd like to see the entire university embrace such a vision.
Athletics
With the small number of student-athletes actually going on to play professional sports, it is important for everyone to remember that student-athletes are actually at Marquette for an education. While athletic scholarships play a big part in this education, it is crucial to see these students as students first when it comes to decisions in the athletic department.
The basketball team, while it does make a significant amount of money for the university, should not be viewed as a business, nor its players as pawns. As a Jesuit university, we strive for "cura personalis" for every student, including student-athletes. They should not be exploited for their talents, and their success as people should be not be measured in wins and losses. It is important for students to remember that when a change happens to the basketball team, such as a transfer or new recruit, it is not just a change that impacts the team on the court but rather is a decision that changes the course of a student athlete's life.
Marquette's athletics department does not conduct itself terribly by comparison to other programs, but it must break from the status quo by having a different view of athletic scholarships and prioritizing education for student-athletes. By treating its athletes as students first and foremost, Marquette can truly "be the difference," in the world of college athletics that sometimes disappoints.
While the urgency around some of these concerns may fade over time, the issues themselves do not. We may not be debating or inquiring about alcohol policy three years from now, but the desire for transparency will still exist. We may no longer be holding MUSG accountable for a turbulent election, but we will still be holding MUSG accountable to its constituents.
We anticipate the need to tackle similarly pressing issues as they arise in the future. We take our editorial role seriously, and we look forward to continuing to strive to develop opinions representing the thoughts and concerns of our student body.
Leave a Comment