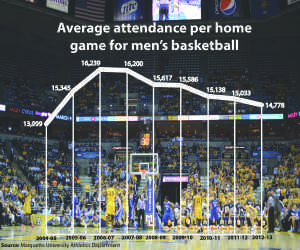 National Marquette Day drew a crowd of 18,644 fans, the second largest crowd of the season, to watch the men's basketball team defeat Xavier, according to Marquette Athletics.
But this is not the norm.
The average attendance for Marquette's home games stands at 15,255 for the 2013-14 season so far, with Wednesday's Creighton game attracting 15,539 fans. While the number is a slight increase from the 14,778 mean last season, average attendance for men's basketball experienced a nine percent drop between the 2006-07 and 2012-13 seasons.
Kimberly Mueller, associate athletics director of marketing and sales, remains confident the average will increase from years prior. A final average will be available after the final home game March 8.
Mueller did not comment on why attendance slipped at Marquette, since she did not have final numbers for the current season. The decrease in attendance, however, is a national phenomenon. Attendance for Division I men's basketball across the country dropped by nearly half a million over the past four years, according to the NCAA.
A common speculation as to the reason for the drop is an increase in television and online viewership. Ohio State athletics director Gene Smith told USA Today, "People are different now. They cherry-pick. They won't go to every game because you have all these other options to see the games. That's hard. That's what's hurting us."
But television viewership is not the only factor. This is the first year Marquette basketball games were broadcasted on FOX Sports 1, following a deal between the Big East and the broadcast company.

It may also help to consider that Marquette games still draw sizable crowds, but only for the better quality opponents. With the formation of the new Big East, the departures of national powerhouses Notre Dame, Syracuse and Louisville mean fewer high-attendance games. The Notre Dame game last year alone drew a crowd of 19,093.
The Ohio State game in November boasted the highest attendance this season with a fan count of 18,756. The Xavier game was the only other time this year the attendance number came close.
Some student section ticket holders like Ryan Woo, a sophomore in the College of Business Administration, said the games are just not as appealing.
"Other than the Ohio State and National Marquette Day games, attendance has kind of been lame," Woo said.
Not only is the lack of big games hurting attendance, but the dates of the games also play a factor. This year, many of Marquette's home contests fall on weekdays, which typically draw smaller crowds.
"It's harder to get fans excited for a weekday game against Creighton versus a weekday game against (Syracuse)," said Peter Fiorentino, a sophomore in the College of Communication.
For the Wednesday Creighton game, some fans sold their tickets for very little — some even giving them away for free — on the Marquette Ticket Exchange Facebook page throughout the week. Student section tickets, especially for games against nationally-ranked opponents like Creighton, typically sell from anywhere between $10 and $50, sometimes even more.
Owen Sutton, a sophomore in the College of Arts & Sciences and season ticket holder, said the exchange process feels different this year.

"Last year, you could sell your tickets for any game and there was for sure people willing to buy them," Sutton said. "This year, however, I've found that a large sum of people are simply giving their tickets away for free on the ticket exchange. For the most part, if you didn't want to buy season tickets this year, you would have been able to go to at least half the games for free."
It is also important to note that despite, the attendance decline, Marquette consistently placed in the top 25 for national men's basketball average attendance since 2002.
"More than 18,600 fans were on hand for the Xavier game last weekend and large crowds are expected for the stretch run in the Big East, which should place Marquette among elite company in attendance," Andrew Brodzeller, associate director of university communications, said in an email.
Brodzeller also said declining attendance is not affecting team revenues.
"Beyond attendance, ancillary revenue streams attributed to men's basketball have grown incrementally in each of the last six years, which is a trend we expect to continue," Brodzeller said.
The men's basketball team generated more than $16 million in the 2012-13 season, and $5.3 million in profit, according to the U.S. Department of Education's Equity in Athletics report.
For many students, though, the men's basketball games are more than revenues and attendance rates.
"I find the games incredibly exciting, " said Hannah Podvin, a sophomore in the College of Health Sciences. "It's not just about winning, it's about seeing the Marquette community come together, from alumni to students."
Story continues below advertisement