Drug czar discusses marijuana 'On the Issues'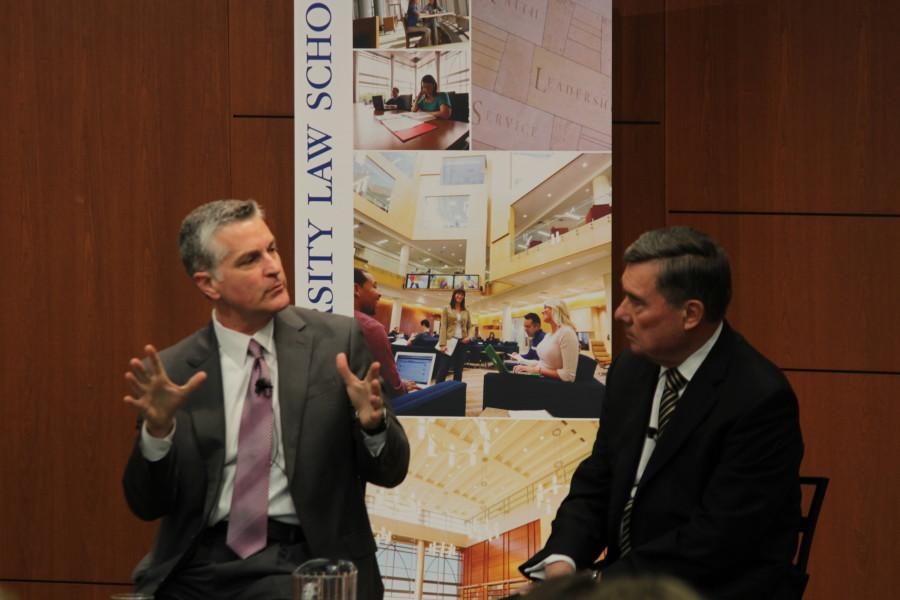 The debate over the war on drugs came to Eckstein Hall Wednesday when Gil Kerlikowske, the White House's "drug czar," sat down with Mike Gousha to talk "On the Issues" about the scope of the nation's drug problem and the legalization of marijuana.
Before being appointed as director of national drug control policy by President Obama in 2009, Kerlikowske was police chief of Seattle. When he left that post, crime in the city reached its lowest point in forty years.
Kerlikowske began the conversation by saying the nation does not have a single drug problem, but rather multiple regional drug problems, with certain drugs used more in different parts of the country but almost unseen in others.
"To give you an example, methamphetamine is a significant problem in the Midwest and West," Kerlikowske said. "(But it) is virtually unknown on the East Coast."
Kerlikowske said prescription drug abuse is an epidemic in the country and that about 16,600 people have died in the past year from abuse.
The White House's focus on regional issues, Kerlikowske said, has led to a large decrease in the country's prison population, where about 50 percent of those incarcerated have a drug connection. He also attributed the decrease to the establishment of 2,600 drug courts across the country.
These drug courts, run by local justice systems, were established to help people who have been arrested for drug possession or use to recognize their problem and help put them on a path to recovery. Kerlikowske said the diagnosis and treatment of drug users is now the main focus in defining national drug policy.
"The war on drugs and legalization have made great bumper stickers, but right here in the middle we have a lot of things that work," Kerlikowske said. "In the last decade we have learned more about drug prevention programs, and we know that drug prevention programs can work."
After Gousha turned the conversation to the legalization of marijuana in Washington and Colorado, Kerlikowske cited a report by the Rand Corporation that expressed doubts about the government's ability to collect taxes on marijuana and the notion that legalization prevents violence, especially in Mexico. Kerlikowske went on to say he agreed with President Obama that marijuana should not be federally legalized.
"I think we're in for a continuing, confusing time," Kerlikowske said. "We don't see any of the science and the facts supporting (legalization)."
Should marijuana be legalized, Kerlikowske said the drug should go through all FDA procedures, something he doubts will happen anytime soon.
"I don't think there is a lot of initiative by the large pharmaceutical companies, because it's very expensive to bring new products to market," Kerlikowske said.
Because marijuana is labeled a Schedule 1 drug, it is not considered to have any medical value. There are only 200 researchers in the country who have a license to study the drug, and so far three derivatives of the drug have been brought to market, two of which can be prescribed in the U.S.
"The difference here is that none of these have the properties to get people high," Kerlikowske said. "If you look at research in California, the sickest group of people there needing medical marijuana are 30-year-old white males, and I never actually saw them as being a particularly unhealthy group."
Milwaukee Police Chief Ed Flynn also sat down toward the end of the conversation to answer questions, echoing much of what Kerlikowske said.
"We in the police have learned over the past 20 years that we are not at war with anybody," Flynn said. "We in Milwaukee have adopted as our mission statement that in partnership with the community we need to develop neighborhoods capable of sustaining civic life."
A person unaffiliated with Marquette who attended the event compared federal drug policy to the Prohibition era of the 1920s, saying drug-related crime was a side effect of marijuana not being legal.
"Everyone says how bad marijuana would be if it were legalized, but when are we going to realize prohibition is the problem and not the drug itself?" the attendant said. "People aren't breaking into these houses because they are dope houses or drug houses. They're breaking into these houses because they know the people (whose houses) they're going to break into can't call the police and say, 'Hey, my drugs were stolen.'"
View Comments (10)