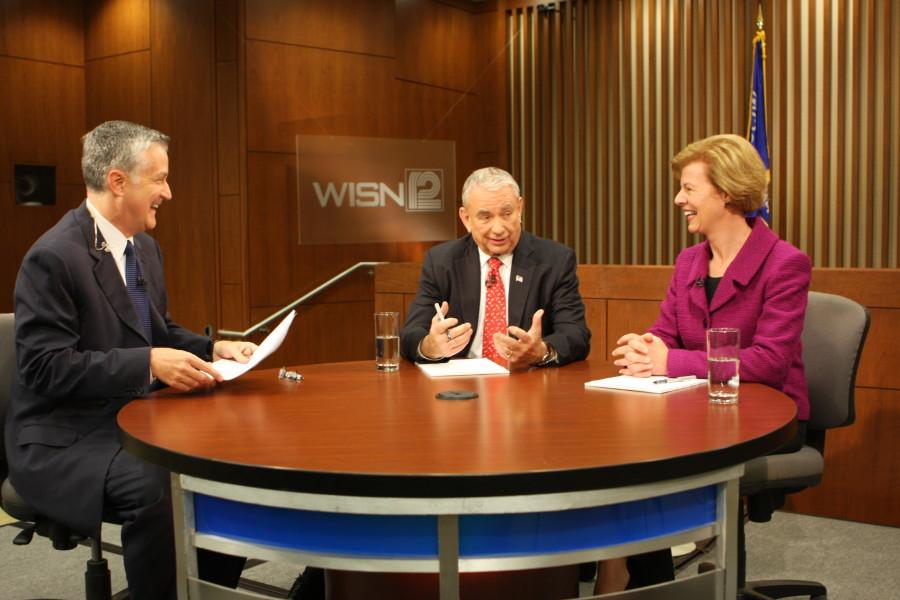 Tommy Thompson and Tammy Baldwin went head to head for a final debate on Friday in what has been a vicious struggle for the Wisconsin senate seat currently occupied by retiring Sen. Herbert Kohl.
The debate, hosted in Marquette Law School's Eckstein Hall, put on full display the incredible negativity surrounding the campaign from both the candidates and their supporters.
Baldwin and Thompson spent much of the debate clashing over a Thompson attack ad criticizing Baldwin for voting against a 2006 resolution honoring 9/11 victims. Baldwin said she voted nine other times for resolutions honoring the victims and worked on passing a bill to give aid to first responders.
"I am outraged that Tommy Thompson would question my patriotism," Baldwin said.
Thompson talked about his experience at ground zero after the attacks and said he wasn't questioning Baldwin's patriotism but "questioned her judgment."
While the remarks resonated with the audience, Netanya Mintz, a student in the Law School, criticized what she saw as Thompson's decision to use 9/11 for political gain.
"I was really turned off by Tommy Thompson's approach to 9/11 – it really struck a nerve with me," Mintz said. "I don't think you should ever politicize 9/11. I think Tammy Baldwin believed in the same thing, and I appreciated that genuinely."
After debate moderator Mike Gousha asked Thompson about comments he made about ending Medicare, the former governor backed away from his previous statements and emphasized his willingness to promote bipartisanship.
"I've always been a moderate conservative," he said, saying that in his 14 years as governor, he often worked closely with Democrats in addition to Republicans.
Outside of Eckstein Hall, fifteen Thompson supporters waved signs in support for the candidate. One of them, Brittany Brzenk, disagreed with the idea that the Thompson campaign had crossed the line in its attacks on Baldwin.
"I'm here to support Tommy because Tommy has been loyal to Wisconsin throughout his governorship," Brzenk said. "We're lucky enough that he's willing to run for Wisconsin again – that's just how loyal he is. (During his) fourteen years as governor, he has done such great things for the state."
The picketers held their demonstration before and after the debate without incident until a conversation between two war veterans, one supporting Baldwin and one supporting Thompson, escalated into a heated argument that ended with both walking off angrily.
The hostility between the two sides reflected the mannerisms displayed by the candidates during the debate. Thompson and Baldwin barely referred to each other by name, often settling simply for "my opponent" or "he" or "she." The event concluded with a handshake made without any eye contact.
Getting the candidates to even stand near each other was a challenge, with Gousha having to ask the two to come closer together before the start of the debate.