Sandy affects East Coast alumni, students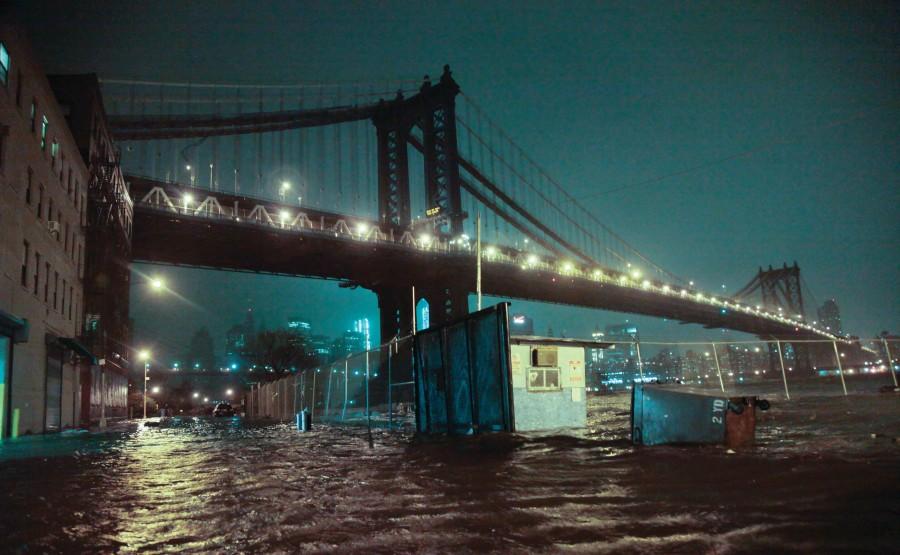 Hurricane Sandy made landfall on the northern East Coast Monday and brought much of the region to a standstill as the region was hit by what has now been dubbed a "superstorm" by various national experts and media outlets.
The storm made landfall at 8 p.m. EDT Monday, bringing with it life-threatening flooding and sustained wind gusts of up to 90 mph. Fourteen were reported dead and more than 5 million were without power as of the early hours of Tuesday morning.
Sandy, which originated as a tropical storm and has been followed by meteorologists since last week, killed 69 people in the Caribbean and led to orders from officials to evacuate parts of New York City, New Jersey, Connecticut and nearby areas.
Even before making landfall, Sandy grounded flights, led to the closing of public transportation and closed various government offices. In addition to the various agencies, the New York Stock Exchange, the NFL front offices and public and private schools were also closed throughout the area. Federal government offices in Washington, D.C., also shut down Monday, and President Barack Obama and former Massachusetts Gov. Mitt Romney suspended campaign stops and issued statements.
Milwaukee and the Midwest have also seen some effects from the massive East Coast storm. Paul Joseph, former chief meterologist for WTMJ-TV and a lecturer for the Marquette physics department, said the city will likely have wind gusts ranging from 25 to 40 miles per hour today, a result of the extremely low pressure center to the east.
Joseph said the eastern storm was noticeable in Milwaukee on Monday in the form of the high, icy clouds to the city's east and relatively clear skies to the west. He said any rain Milwaukee experiences during the course of the storm would likely be lake effect rain rather than a direct result of Sandy.
Joseph also explained the difference between Sandy, the so-called "superstorm," and Hurricane Irene, which struck the East Coast in August 2011.
"The big difference is that (Sandy) is changing form as we speak," Joseph said Monday afternoon. "This storm is unique in that it's transforming from a tropical storm – a storm that develops over the tropical ocean, with warm water – to an extra-tropical storm – like a storm in the Midwest, with rain, thunderstorms and snow."
Joseph said this transformation will likely cause the storm to move more slowly across the east than a typical hurricane or tropical storm.
The hurricane has also had a direct impact on current and former Marquette students. Sarah Milnar, a professional studies graduate student and 2010 Marquette alumna, was in New York for a wedding this weekend and planned to fly out of LaGuardia Airport Monday. She said her flight was cancelled and rescheduled to Wednesday, leaving her and her family stranded in a hotel two hours north of the city in Pougkeepsie, N.Y.
New York City was expected to continue taking especially heavy damage from the storm, and some estimates projected $10 to $20 billion dollars in total damage from Sandy.
"It's not that bad yet," Milnar said Monday afternoon. "It's been raining all day and the wind is starting to pick up, though."
Jen Michalski, a 2012 alumna, said she lost power on Monday around 3 p.m. CDT after high winds and steady rain throughout the day near her home in Worchester, Mass., about an hour away from Boston.
"I'm lucky, being about an hour from the coast," Michalski said. She said she hoped for a break in the storm before Thursday, when she is scheduled to fly to Milwaukee.
In Washington, D.C., near Capitol Hill, Kaitie Kovach, a 2010 alumna, said Monday afternoon that the storm was starting to pick up.
"It's not pleasant out here," Kovach said. "Right now there's lots of rain and the wind is starting to pick up and get freaky-sounding."
Kovach said local news in the area began reporting on the storm during the middle of last week. She said she hadn't left her apartment, which still had power Monday afternoon, all through Sunday and Monday.
"I didn't go crazy stocking up," she said. "But I did get some basic provisions."
Kovach said she also didn't lose power during Hurricane Irene and she expected the storm wouldn't strike the Capital area the worst.
"I feel bad for people in New Jersey," she said.
Kovach, a Chicago native, also said she was still getting used to living near the ocean.
"I never had a 'hurricane day' until I moved out here," she said. "Right now, I'm just hanging out."
Leave a Comment