GOODMAN: Friends: more than a shoulder to cry on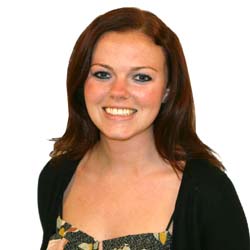 One of the great things about being a columnist for the Marquette Tribune is that I can pretty much write about whatever I want. For example, about two hours ago I fully intended to use this blog to praise the iPhone app Snapchat for how it has made selfies completely acceptable within society.
The other great thing about being a columnist is that I can switch topics at the last minute based on experiences I have had throughout the day prior to deadline. Although Snapchat would have been oh-so-fun to dedicate 18 inches to, I've had a change of heart. I'd like to pay tribute to something a bit more meaningful.
In my time at Marquette, I've been blessed with the opportunity to meet and build relationships with many incredible people. These individuals have been students, professors, administrators and all the rest that fall somewhere in between. They're my friends, role models, mentors and support systems. Without many of these people, I would not be who I am today; a fact that makes me grateful to have such individuals in my life.
Yesterday served as a reminder of just how lucky I am.
I was having a really awful day. By awful, I mean really, truly terrible. Academics, involvement responsibilities, work and the realization that I honestly have no idea what I'm going to be doing with my life this time next year, nor am taking the necessary steps to figuring it out, had piled up so high that I reached a breaking point.
To put it into better perspective, I almost (by almost, I mean I'm really just unwilling to admit it) started crying in the Center for Leadership Service and Involvement. For those of you who don't know me, I do not cry … especially not in the CLSI.
Luckily, one of my biggest influences at Marquette was standing nearby and willing to calm me down. Her name is Katie Rhodes, a graduate assistant in the Office of Student Development.
Over the past year, Katie has served not only as one of my supervisors, but as a role model and friend. She is one of the kindest people I have ever met, and I greatly admire her. If you don't know Katie, you're missing out. If you do know her, make sure to say congratulations on the fact that she got married this past weekend.
Yesterday, Katie took an hour out of her busy day to provide her undivided attention as I babbled about all of my concerns. If I would have asked, she surely would have given even more time.
She didn't just listen, though. She put my dilemmas into perspective and gave me advice in every area I needed it. This wasn't the first time Katie has done this for me, either. Whenever I need her, she is always there. In fact, she has greatly shaped many of my thoughts on my life and the world around me.
I have two main reasons for telling this story, though.
First, it's a way to publicly thank Katie for all she has done for me. It's a thanks for the hours she has talked with me in her office after meetings, the ways she has opened my mind to possibilities and perspectives I never would have considered on my own and for simply being a wonderful friend.
The second is that I could have told the exact same story a hundred times over the past three years, with the only difference being the name of the person involved.
Being a person for others at Marquette is not an expectation, it's a standard. Katie is one of many who have continuously been there for me during my time here, and I'm sure every student out there has the same types of individuals who provide guidance, care and support.
This is one of the beautiful things about Marquette – people genuinely care. They care about the well-being of others, whether a close relationship exists or not. They care about the choices and actions of individuals, and the consequences such acts may have. And they care about your day, and if it's not going well, how to make it better.
They care about these things regardless if they'll receive thanks or the same type of care in return.
Everyone deserves to know how great they are. So next time someone shows you they care, let them know how much their actions mean to you. And next time someone is in need, be that person who takes the time to listen.
After all, just as we have our own support systems, you never know what or how much your care might mean to someone else.
Leave a Comment