STARTING FIVE: No. 2 Marquette faces No. 15 Vermont in NCAA First Round
COLUMBUS, Ohio – The Golden Eagles are dancing in March for the second straight season under Marquette head coach Shaka Smart.
Sixth-ranked Marquette, the No. 2 seed in the NCAA East Regional, takes on No. 15 seed Vermont at 1:45 p.m. CST Friday at Nationwide Arena.
Here are five things to look out for in Friday's First-Round matchup:
Defense Wins Games
As it has been since his days at VCU, Smart has instilled a lethal defensive identity into his teams. This year's Marquette squad is no exception to that.
In their three Big East Tournament contests, the Golden Eagles held their opponents to 36% shooting from the floor and 29% from beyond the arc. Marquette also forced 14.6 turnovers per game and averaged 7.6 steals per contest.
In the championship game, Marquette held Xavier to just 51 points, which marked the Musketeers' lowest scoring performance of the season.
"They're still really aggressive defensive team that's going to pressure you all over the court," Vermont head coach John Becker said. "They're going to put a lot of pressure on you. When the ball hits the paint, they're going to fly to the ball and we've got to take care of the ball. We've got to have shots, not turnovers. They're an underrated defensive team."
Vermont, meanwhile, is ranked sixth in the nation in turnovers per game, averaging 9.4 per contest.
If Marquette can replicate its recent defensive performances and increase that turnovers number, it will be able to set the tone against Vermont.
Vermont's Transfer Duo
The Golden Eagles will have to handle the talents of Catamount senior transfer guards, Dylan Penn and Finn Sullivan.
Penn, a transfer from Bellarmine, leads Vermont in scoring, averaging 13.5 points per game.
In his last five contests, he is averaging 18.8 points per game. He was named to the All-Conference Second Team in the America East.
"It gives us an opportunity to play in front of more people," Penn said. "We feel like we do things the right way and we play really good basketball in Vermont. So it's just going to give us an opportunity to play in front of a national stage and really get eyes on Vermont."
Sullivan was named Player of the Year in the conference and is averaging 11.9 points per game.
"Just five guys at all times that can shoot the ball, super skilled, dribble past you," junior guard Tyler Kolek said. "We've got to be on edge. Every guy on their team can make plays. So we've got to be ready for everybody."
Bench impact
Both these teams rely on their benches to generate offense. Marquette's bench averages about 21 points per game, while Vermont's averages about 22 points per game.
Sophomore forward David Joplin, the Big East Sixth Man of the Year, leads the Golden Eagles' bench.
The Brookfield, Wisconsin native shot 53.3% from beyond the arc in the Big East Tournament earning him All-Tournament Team honors.
"Play the same way, keep the same mentality," Joplin said. "Try to bring energy. Play as hard as I can on defense and let the offense come to me. These games and rounds in the tournament is a great way for us to keep showing everybody who we are."
For the second year in a row, Aaron Deloney won the America East Sixth Man of the Year.
Deloney is currently averaging 11.4 points per contest and leads his team in 3-point shooting, averaging 40.6% on the season.
"We're better with him off the bench," Becker said. "I've always believed that if you're fortunate enough to have some of your best players to come off the bench is really important. If you get off to a slow start, you have guys that you can put in the game that will make you better or there's no drop-off. Aaron's willingly gone to the bench and he's had a great year for us."
Dominating the paint
Much of Marquette's offensive success this season has come from points inside the paint. The Golden Eagles are ranked second in the country in that category, averaging 39.2 points per game.
Marquette scored 40% of its 65 points in the paint against Xavier in the championship game.
Junior forward Oso Ighodaro has controlled the paint for Marquette this season. Ighodaro, who was named to the All-Big East Second Team, is currently shooting 51.5% on shots inside the paint while grabbing 5.9 rebounds per game.
Ighodaro and junior guard Tyler Kolek pose difficulties for opponents with their playmaking ability as well.
"They're both very good players," Becker said. "Both those guys are the key to the scouting report obviously, and make them, go so to speak. They're an elite offensive team. So those guys will be the focus for us defensively."
As for Vermont, senior guard Robin Duncan pulls down a team-high 7.3 rebounds per contest.
Duncan brings experience to the Catamounts, as he is the only player on the roster that has played in two NCAA Tournament games.
"We're experienced, especially at the guard spot, against a Marquette team that pressures teams and tries to turn you over," Becker said. "It should help us in this game having experienced guards that have not only played a lot of games but played in the NCAA Tournament. So we're hoping that pays dividends."
Momentum is key
Although anything can happen in March, a team that gets hot at the right time increases its chances of success going into the Big Dance.
Marquette is currently on a season-long nine game winning streak. The last time the Golden Eagles won nine consecutive games was in the 2015-16 season.
In the nine wins, Kolek leads his team averaging 18.2 points per game.
"We can take good things that we've done in that winning streak and try to stay consistent, but nothing matters going into this tournament," Ighodaro said. "Everyone's zero-zero. We just got to try to be who we are."
On the other hand, Vermont has won 15 games in a row, which is the second-longest active streak among all men's teams in the NCAA.
The Catamounts also captured their seventh consecutive America East championship, defeating UMass Lowell 72-59.
In last year's NCAA Tournament, Vermont hung tight with No. 4 Arkansas before falling by only four points.
"There's never a better time than now," Duncan said. "You can't really look at the past too much. (We) really want to be in the moment right now. When we get in a game, we really want to take it possession by possession, make sure we're doing the right things and executing. And if we come out with a win, we come out with a win, we'll be happy with that."
This article was written by Kaylynn Wright. She can be reached at @[email protected] or on Twitter @KaylynnWrightMU.
Leave a Comment
About the Contributor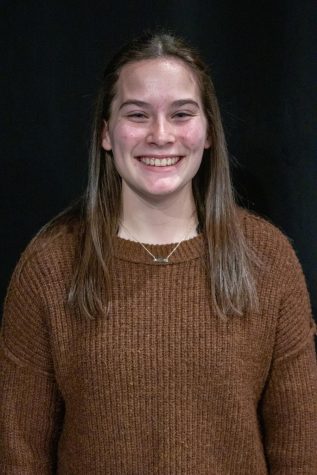 Kaylynn Wright, Assistant Sports Editor
Kaylynn is an Assistant Sports Editor at the Wire. She is a first-year from Menomonee Falls, WI studying journalism.

In her free time, Kaylynn enjoys...