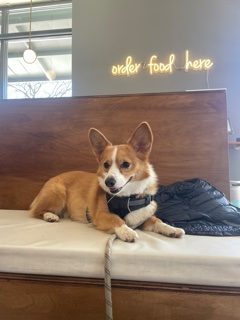 I love my college life. I love where I work, my friends and all the experiences I have had. But, there is one thing lacking for me that would put my college experience back to the very top. The thing I miss the most as a student are my two furry friends: Archie and Darcy. 
This past Sunday, my mom brought Archie and Darcy to visit me at school. With the weather being so nice, we went on the perfect hike, and all my friends got to meet my two favorite pups in the world. But after so much exercise, I of course got hungry and searched for a dog-friendly restaurant in Milwaukee.
I came across Riley's Social House, which is located at 411 Menomonee St. in the Third Ward. Riley's is a completely dog-friendly restaurant and bar and has two locations, the other being in Shorewood, WI. This was the perfect spot for a quick and casual lunch, and also gave Archie and Darcy the opportunity to play with other dogs.
Upon entry at Riley's, the first task is to put a ribbon on your dog. Green represents a friendly dog, yellow represents a shy but friendly dog and red represents an unfriendly dog. Archie and Darcy got their green tags on and were ready to mingle with other furry friends.
The next step is to order food at a kiosk, and the food is prepared in a kitchen next door to the social space. At first, I didn't really understand the purpose, but then I remembered I had two hungry dogs with me who were willing to do anything for a bite.
The menu is sandwich based, with offerings of chicken, steak and vegetable sandwiches. The restaurant also has a selection of wings and salads, and of course, some snacks for the dogs.
We decided to order two halves of sandwiches, as they were fairly large and we wanted to try both a chicken and steak sandwich.
The first sandwich was the Steak & Avo, which was a personal favorite. The sandwich was filled with pieces of thin-cut beef tenderloin, avocado, tomato and mozzarella, and was smothered in their aji verde sauce. The ingredients of the sandwich paired very well together, and the sauce, which was basil based, added a flavor that set it apart from any other sandwich I have ever had.
The second sandwich we ordered was the CBR, which was the chicken-based sandwich that we ordered which was filled with bacon, house-made ranch, tomato, avocado and lettuce. I really enjoyed the crispness of the chicken and bacon, but the ranch was a little too overpowering to me.
We finished our meal with two chocolate chip cookies, which were melt-in-your-mouth delicious. They were chewy, which is my favorite type of cookie, and they had the perfect balance between dough and chocolate.
As for the dogs, we ordered them "Riley's frozen treat," which was a frozen puree of pumpkin and peanut butter. We made the mistake of only ordering one, and the dogs refused to share. So we gave them turns, and both dogs were covered in the puree after. There was no doubt that this was the highlight of their day.
Not only was the food delicious, but the overall restaurant experience was exceptional. The staff were so nice and snuck a couple of treats to the dogs during the meal. Also, by being surrounded by other dogs, the atmosphere was so positive. Darcy, my corgi, met another corgi friend, and I could tell she was so happy to be there.
Overall, our experience at Riley's was the perfect way to spend a beautiful Sunday with the dogs. Even when I don't have dogs to join me, I still plan on visiting and catching up with the other pups. Riley's social house is Phoebe the Phoodie approved, but most importantly, Archie and Darcy approved.
This story was written by Phoebe Goebel. She can be reached at [email protected].
Story continues below advertisement