Roegner brings 'silent killer' mentality in first year at Marquette
Despite his long history with the sport, first-year Blake Roegner didn't always want to play collegiate tennis.
"I've always been playing tennis since I was three years old," Blake said. "I never really decided until my sophomore year of high school that I really wanted to commit to it." 
But after seeing his brother play, he decided to take the plunge.
"He's always just been an incredible example for me," Blake said. "I've always looked up to him. (He's) been my role model for sure. Looking at him, I knew that I was capable of doing the same thing." 
Ryan graduated from Butler University this past May, where he played tennis for four years. He said that being able to watch his brother play collegiate tennis was a dream come true.
"We always both had that goal of playing in college however that ended up looking in terms of what schools we went to," Ryan said. "I've been living vicariously through Blake these last few months getting to watch him play college tennis given that I just graduated and miss it a little bit."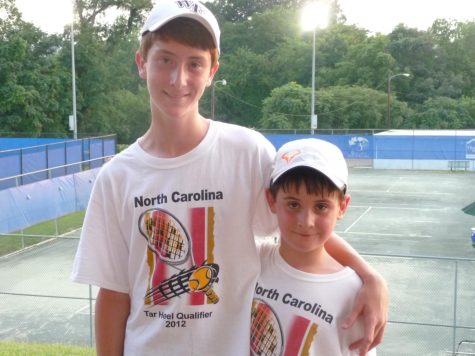 With both playing at Big East schools, Ryan said that, despite the rivalry, he knew that Blake made the right decision to play at Marquette. 
"We were always, back when I was playing, big rivals with Marquette," Ryan said. "It's funny to give him a hard time about it sometimes. But it's also rewarding to watch him go through and play on at what I know is a good school from a third-party perspective." 
While Ryan was still playing, Blake took the first step by approaching Marquette head coach Steve Rodecap to see if he could play at Marquette.
"Blake came up to me," Rodecap said. "He was actually watching his brother play at a fall tournament and came up to me and introduced himself with his mom. That's kind of how it got rolling a little bit, that initial introduction." 
Rodecap said that one thing he noticed first about Blake was his composure on the court. 
"What I liked about Blake instantly was that he's got a court presence to him," Rodecap said. "The way he handles himself on the court, he always came across as being very mature. He's very analytical about how he approaches the game." 
Blake's analytical and reserved mindset towards the game has become one of his best assets on the court. 
"He's always been not one of the more outspoken and excited players on the court and similar to me in that way," Ryan said. "(It's) definitely not a bad thing. He's more of that silent killer type of guy and keeps his emotions under check throughout the match. That really benefits him." 
When Blake arrived at Marquette, Rodecap had planned to have him play primarily in singles.  
"When we first got rolling, I wasn't for sure counting on him in the doubles," Rodecap said. "I felt like his singles game was a little bit further ahead of his doubles game." 
But when Rodecap saw Blake's talent, he knew he wanted to give him a shot to play in doubles matches. 
"One of the pathways for success for us this year was going to have to happen through doubles," Rodecap said. "When I started looking at Blake and his ball-striking skills, it was just someone that I wanted to give a chance to. Then I'm like, 'Who can I put him with?'" 
The answer to that question comes in the form of junior Tin Krstulovic, a Slovenian native.
Rodecap said that the partnership formed between Blake and Krstulovic was a stroke of luck.
"Tin, his brain works very similar to Blake's," Rodecap said. "The doubles point can get rowdy and vocal, which is fun. Both those guys don't fit that mold extremely well because they're so internal and focused on what they're doing. It was a little bit (of) luck when I put them together." 
In his first year, Blake has appeared in every single match and has started as high as No. 2 in singles and No. 1 in doubles. 
Blake said that Krstulovic has been a big part of his personal growth so far this season. 
"(He's) a great role model on the team," Blake said. "I've looked up to him since I've gotten here. He's an incredible player. I have learned so much in doubles specifically and I feel like personality-wise, that we really work well together." 
From Krstulovic's perspective, their partnership has continued to develop through the many challenges they've faced on the court. 
"With every game, you earn more trust," Krstulovic said. "We've been through a lot of adversity. You're put in different situations every single match, and we just grow dealing with everything together." 
Krstulovic said that despite the initial struggle, Blake has adjusted well to the atmosphere of a college tennis match. 
"It's very loud, competitive and stressful. He, same as pretty much every other freshman is struggling with that at the beginning," Krstulovic said. "But he's doing way better now… especially in doubles, he's making big progress and contribute from the first point to the last."
As Blake continues to improve, Rodecap said that his confidence will be the main factor in the rest of his career.
"The one thing that I like about him (is) he's a pretty confident kid," Rodecap said. "He's going to be really successful as long as he has the right mindset, which I think he does. He's pretty confident when he takes the court and believes in what he can do. He's going to continue to get better." 
This article was written by Kaylynn Wright. She can be reached at [email protected] or on Twitter @KaylynnWrightMU.
Leave a Comment
About the Contributor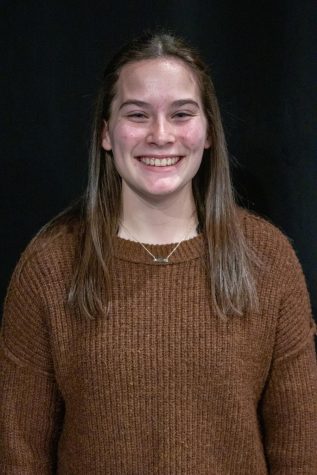 Kaylynn Wright, Assistant Sports Editor
Kaylynn is an Assistant Sports Editor at the Wire. She is a first-year from Menomonee Falls, WI studying journalism.

In her free time, Kaylynn enjoys...